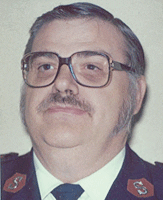 promoted to glory_ Major Francis L. Ragland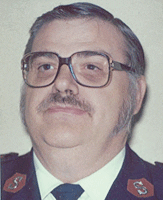 Major Francis L. Ragland, 76, was promoted to Glory Jan. 23 from Stockton, Calif.
Francis Ragland was born Dec. 4, 1936, in Gillette, Wyo. His father died while Ragland and his four siblings were still young. His mother remarried, and the family moved to Boise, Idaho, where he was introduced to The Salvation Army.
After graduating from high school, Ragland joined the U.S. Air Force and served overseas during the Korean conflict. Returning to Boise after the war, he began working at the U.S. Post Office and reconnected with The Salvation Army. In Boise he met Eleanor Ratcliff, and they married in 1961.
The Raglands entered The Salvation Army training school in San Francisco as part of the Evangelists Session and were commissioned in 1969. Over the years, they were appointed as corps officers at Hanford, Calif.; Flagstaff, Ariz.; Las Vegas, Nev.; and Butte, Mont.
In 1984, they were assigned to Alaska where they opened the South Anchorage Corps and later the Kenai Peninsula Corps. They also opened the corps in Laramie, Wyo. Their final appointment was as administrators of the Silvercrest Senior Residence in Stockton, Calif., before retiring in 2000.
The couple made their retirement home in Stockton, where Francis Ragland participated in the Stockton Kiwanis Club in a variety of leadership positions, including Lt. Governor for the Stockton district of Kiwanis twice.
Ragland is survived by his wife and children, Michael (Jenni) Ragland and Ruth (John) Cunningham; five grandchildren; brother Eugene; and half-brother Gerald Coatney.
Commissioner Kenneth Hood conducted the funeral service at the Evergreen Chapel in Lodi, Calif.