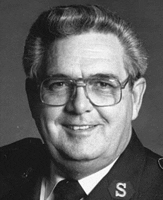 promoted to glory_ Lt. Colonel David Allen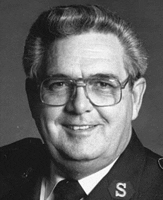 Lt. Colonel David Allen, 83, was promoted to Glory Jan. 11 from his home in Menifee, Calif.
David Royal Allen was born July 13, 1929, in Mt. Vernon, Wash., the son of Captains John and Amy Allen. While his parents served in Santa Ana, Calif., David attended Santa Ana High School and Santa Ana Junior College, and served in the U.S. Naval Reserve. In 1951 he entered The Salvation Army training college in San Francisco and was commissioned with the Intercessors Session in 1952. He met future wife, Lois Enscoe, in training and they wed in 1955.
Following two corps appointments in San Diego and Oxnard, Calif., Allen began his ministry in the Men's Social Service Department, later named the Adult Rehabilitation Centers (ARC) Command. He served as a trainee at the San Francisco ARC and then as administrator in Honolulu; Portland, Ore.; and Sacramento and Oakland, Calif. The Allens spent 11 years in Oakland and were responsible for the construction of a new building.
Allen also served as Northwest divisional secretary and at the College for Officer Training at Crestmont. In 1982, he was promoted to the rank of Lt. Colonel and appointed as commander of the Western Territory Adult Rehabilitation Centers Command, where he remained for 12 years, until his retirement in 1994.
The Allens made their retirement home in Menifee, Calif., where Lois worked at the Perris ARC as an addiction counselor and David traveled about the territory consulting on new thrift stores, buildings and ARC projects. Lois Allen was promoted to Glory in 2010.
Allen is survived by his children, John, Denise, Sharon and David, Jr., and eight grandchildren.
Lt. Colonel Ron Strickland officiated at a service at the Perris ARC, and Major Jack Phillips gave the message.