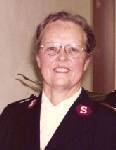 Promoted to Glory – Mrs. Brigadier Pearl Lorenzen
Mrs. Brigadier Pearl Lorenzen was promoted to Glory on Nov. 25, 2010, from Alamo, Calif.
Pearl Stevens was born on Jan. 9, 1914, in Thief River Falls, Minn., to Conrad and Louise Stevens. At the age of 4 she moved with her family to Tacoma, Wash., where they were introduced to The Salvation Army when a neighbor invited them to church.
Lorenzen entered the School for Officer Training and was commissioned with the Do and Dare Session in 1934. After serving several appointments, she met Henry Lorenzen at a congress.
They married in 1937 in Tacoma. They served in Los Angeles, San Francisco and Oakland, Calif.; Juneau, Alaska; Salt Lake City, Utah; Spokane, Wash.; Portland, Ore.; and Denver, Colo. Their appointments included corps officership, and divisional and territorial assignments.
Henry Lorenzen was promoted to Glory on June 11, 1991.
Pearl Lorenzen had a beautiful singing voice and was an accomplished guitarist, and she used these gifts in her ministry. She was also a skillful seamstress, making items for Home League sales.
Even after retirement she continued working with Home League.
Lorenzen is survived by four of her five children: Paul Lorenzen, Julie Gibson, Marie Philipsen and Martha Slous. Her oldest son, Phillip Lorenzen, died in 2000.
The Concord (Calif.) Corps held a service for Lorenzen with Major Clay Gardner, corps officer, officiating. Interment followed at Cypress Lawn.
Lorenzen's request was that donations be made toward a scholarship fund for cadets entering the College for Officer Training.