promoted to glory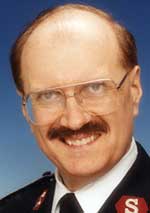 Lt. Colonel Raymond L. Peacock, 71, was promoted to Glory Nov. 14.
Raymond L. Peacock was born in Denver, March 9, 1942, to Lester and Helen (Bartlett) Peacock. He was commissioned as a Salvation Army officer with the Heroes of the Faith Session in 1964 and served at corps in Spokane, Centralia and Pasco Temple, Wash. He was then appointed to the School for Officer Training as the field training officer in 1967.
Peacock married Carolyn Irby in 1969, and they had two children: Cory and Cristin. They served together as corps officers at the Pomona, Calif., corps and the Kauluwela Mission Corps, Hawaii. He was also appointed as family services director in Phoenix; Southwest divisional social services director; Southwest divisional youth director;  Western territorial social services secretary; Northwest Division divisional secretary; Northwest Division general secretary; National Headquarters social services secretary; Sierra del Mar divisional commander; Western territorial secretary for program; president/principal of the College for Officer Training; and Western territorial secretary for leadership development. His last active appointment was as Intermountain divisional commander.
Peacock acknowledged three callings: first, to be a Salvation Army officer; second, to be a social worker; and third, to encourage young people. Always expecting the best of himself and desiring to improve, he earned a bachelor's degree in Sociology and Psychology from LaVerne College; a Master of Social Work from the University of Hawaii; and a Doctorate of Ministry, Leadership Development from George Fox University.
Even in retirement he continued working and was instrumental in helping to raise funds for the new Harbor Light Center in Denver.
Preceded in death by his parents, Helen and Lester Peacock, he is survived by his wife, Carolyn; son Cory (Amy) Peacock; daughter Cristin Peacock; two granddaughters; one grandson; a sister, Major Leslie (Douglas) Peacock; and brothers, Roger (Connie) Peacock and Major Rick (Margaret) Peacock; several nieces, nephews, great nieces and nephews and one great-great nephew.
The Denver Harbor Light held a Celebration of Life Service Nov. 19 with Commissioner Philip Swyers presiding and Major Rick Peacock bringing the message. Interment followed at Crown Hill Cemetery with Swyers presiding.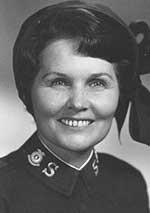 Major Jean Upton was promoted to Glory Nov. 7 from Portland, Ore.
Jean Foote was born June 3, 1921, in Breckenridge, Minn., to Hazel and Loren Foote. She had a brother, Loren, and a sister, Marian. When she was 8 years old, her family drove from South Dakota to Washington in a brand new car that her mother had won from a contest on a cereal box.
Foote married Lincoln Upton in 1941, immediately after the bombing of Pearl Harbor. They had two children: Christine and Douglas; four grandchildren: Kelli, Kristin, Brian and Julie; and four great-grandchildren: Jonathan, Ethan, Emily and Benjamin.
Upton entered training school with her husband in 1946 and was commissioned with the Warriors Session in 1947. Their careers spanned 40 years and included corps officer appointments in Los Angeles, Lincoln Heights and Inglewood, Calif.; Hilo, Hawaii; and Tacoma, Wash. She served as the divisional Guard and Sunbeam director in the Northern California and Southwest divisions; as League of Mercy and Home League secretary in the Southern California Division; and as director of the San Francisco, Denver and San Diego Adult Rehabilitation Centers.
Upton was preceded in death by her husband in 1988.
The Portland Tabernacle Corps will hold a memorial celebration service Jan. 11, 2014, with Lt. Colonel Judy Smith officiating.