promoted to glory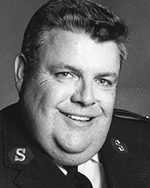 Major James Kenneth Rodal was promoted to Glory Sept. 30 from Sun City, Ariz.
James Kenneth Rodal was born Aug. 15, 1934, in Bellville, Ill. When he was 6, his family relocated to Hollywood, Calif. He accepted Christ at the age of 14.
After graduating from North Hollywood High School, Rodal attended Dana Lutheran College in Blair, Neb., and later served as a drill sergeant in the U.S. Army. In 1959, he married Mary "Lynn" Cook, and they had three children: Linda "Ann," John Mark and Cindy Lynn.
Rodal worked in the foodservice industry with S. E. Rykoff for 15 years. He met The Salvation Army in 1974 when he acquired the Ventura (Calif.) Corps Meals on Wheels as a client. Soon, Lynn Rodal became director of the corps' Meals on Wheels and senior feeding program.
Then Corps Officers Lts. Joe and Eileen Hoogstad invited the Rodals to attend the Ventura Corps holiness meeting, where they recommitted their lives to Christ and became soldiers. In 1975, they entered the School for Officer Training in the Companions of Christ Session. During training, they discovered a passion for the Men's Social Service Centers—later called the Adult Rehabilitation Center (ARC). Their 24 years of ministry in the ARC included appointments at Oakland, Los Angeles, Van Nuys and Bakersfield, Calif.; Tacoma, Wash.; Tucson and Phoenix, Ariz.; Portland, Ore.; and the Anchorage (Alaska) Adult Rehabilitation Program (ARP).
Rodal retired from active service in 1999 but continued serving in ARC appointments until his health began to fail. For 14 years he soldiered at the Sun City (Ariz.) Corps where he and Lynn mentored corps members heading to training.
Rodal is survived by his wife Lynn; children, Ann (Steve) Stewart, John (Laura) Rodal, and Major Cindy (Mike) Dickinson; six grandchildren, Ryan, Calista and Kylie Rodal and David, Joshua and Rebekah Dickinson; sisters, MaryJo (John) Gladysiewicz and Peggy (Johne) Munson; and brother, Paul (Jetta) Rodal.
The Sun City Corps held a celebration of life service Oct. 6 with Lt. Colonel Alfred Van Cleef officiating. A private family burial took place Oct. 4 led by Captain Jason Koenig.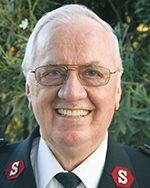 Major Robert E. Smith was promoted to Glory Sept. 14 from Long Beach, Calif.
Born and raised in Compton, Calif., Robert Smith attended the Compton Corps. Entering the School for Officer Training in 1960, he was commissioned with the Soldiers of Christ Session. He met Lt. Metta Brown and they married in 1963.
After serving in Central California, the Smiths took time off from officership, moving back to Southern California where Smith became a Huntington Beach fireman. They had two daughters, Michelle and Carrie, during this time. They were later reinstated as officers and served in Van Nuys, Calif., where their twins, Robert Jr. and Robyn, were born.
During 35 years of service, the Smiths served at 14 Western Territory corps: Spokane and Longview, Wash.; Kingsburg, San Bernardino, San Fernando Valley, El Sobrante, Oakland and Redondo Beach, Calif.; Helena and Billings, Mont.; Cheyenne, Wyo.; Caldwell, Idaho; and Coos Bay and Roseburg, Ore. Smith was known for his ability to raise money and handling of finance projects. During a second posting to Redondo Beach, the Smiths raised money and oversaw construction of the new Corps Community Center and Roland Mindeman Senior Residence.
An active Kiwanis Club member, Smith served the organization as Lt. Governor while in Roseburg, Ore. He used his firefighting skills as a volunteer for 10 years. A sports lover, he officiated high school football and baseball. He also served as a chaplain with the Redondo Beach Police Department and the Sheriff's Department in Longview. Among many awards for his civic contributions, one from 1995 stood out to Smith; acknowledging the couple's service to the South Bay (Calif.), the Wellness Community named the Smiths "Citizens of the Year."
The Smiths retired in 2000 and remained in Oregon a short time before returning to Southern California for the climate and family.
Smith is survived by his wife, Metta; his children, Michelle, Carrie, Robert Jr., and Robyn; his five grandchildren; and his brothers, Philip and Donald.
The Long Beach (Calif.) Corps held a memorial service Oct. 5 with Major Darren Trimmer presiding. Smith's ashes will be scattered at a later date by family.