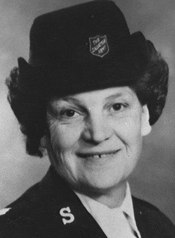 Promoted to Glory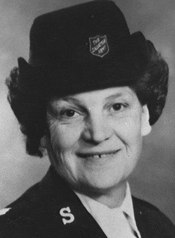 Major Pearl Loraine Reid was promoted to Glory Sept. 3 from Milton, Wash.
Pearl Loraine Hoadley was born Aug. 3, 1924, in Trinidad, Colo., the youngest of 10 children to Charles and Stella Hoadley.
As a child, she attended the Trinidad Corps before moving to Roswell, N.M., in 1940, where she assisted Corps Officers Majors Erik Jan and Christina Hoogstad. There she met Eddie A. Reid and they married in 1944.
Eddie Reid  served in the U.S. Army Air Corps during WWII while Pearl Reid assembled airplanes at Douglas Aircraft in Long Beach, Calif.
After her husband's return from the war in 1946, the couple entered The Salvation Army School for Officer Training, graduating with the Warriors Session in 1947. They served in Douglas and Globe, Ariz.; Colorado Springs and Pueblo, Colo.; Ogden, Utah; Helena, Mont.; Bremerton, Wash.; Butte, Mont.; Idaho Falls, Idaho; and Renton, Wash.
After retiring in 1984, the Reids continued working with the Army. She was instrumental in founding the Renton Food Bank, and invited other churches and community groups to join her in the ministry of feeding the city's poor. The successful collaborative efforts earned her the distinction of Renton's Citizen of the Year in 1991.
She was also active in the Soroptimist Club.
Reid was preceded in death by her husband in 1995; her oldest daughter, Carolyn Fisher, in 1981; her only son, Dale Edward, on April 3; and eight brothers and sisters.
She is survived by three daughters: Catherine (Larry) Popp, Carol (Philip) Olsen and Cheryl (Stephanie) Reid-Simons; daughter-in-law, Kathy Johnson; niece, Major Ruth Looker; brother, Clifford Hoadley; 13 grandchildren and 13 great-grandchildren; and many nieces, nephews and cousins.
Major Ralph E. Looker, Reid's nephew, officiated a celebration of life service Sept. 12 at Bonney-Watson: Washington Memorial Funeral Home, SeaTac, Wash.
Memorial donations may be made to The Salvation Army Renton Rotary Food Bank, 206 S. Tobin Street, Renton, WA 98057.