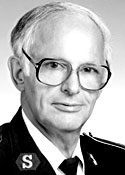 Promoted to Glory
Lt. Colonel Le Roy Pedersen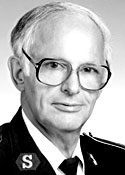 Lt. Colonel Le Roy Pedersen was promoted to Glory on Aug. 6, 2010, from Riverside, Calif. He was born and raised in Chicago, Ill., the youngest of seven children. He was a second-generation Salvationist. His mother—from a non-practicing Jewish family—became a life-long Salvationist after a friend invited her to Sunday school at The Salvation Army.
Pedersen entered officer's training from the Chicago #5 (Kedzie) Corps and was commissioned with the Warriors Session in 1947 to assist at the Grand Rapids (Mich.) Citadel Corps. In 1948 he was appointed to South Bend, Ind., and in the fall of that year to the Kansas and Western Missouri Division.
In 1951, he married session mate Luetta Werle while serving as commander of the corps in Excelsior Springs, Mo.—her hometown. They served as corps officers in the Kansas and Western Missouri Division until 1959. Three of their children were born in Kansas. They were later transferred to the Iowa Division where they served for four years. Their youngest son was born in Davenport. A daughter died at the age of 2 months.
In 1963 they were transferred to the Eastern Michigan Division where Pedersen served as finance trainee, followed by appointments as divisional financial secretary, Indiana Division, and chief accountant, Chicago Territorial Headquarters.
In September 1976 Pedersen was transferred to the Western Territory where he served as divisional financial secretary and, later, general secretary in the Southern California Division. In 1979 he was transferred to Western Territorial Headquarters as territorial financial secretary. He later served as territorial secretary for business administration.
He retired in 1991. After retirement he served for six and a half years as chaplain at the San Bernardino Adult Rehabilitation Center.
Pedersen was a bandsman and songster from youth and taught corps cadets at both the Indianapolis Central and Detroit/Citadel/Dearborn Heights Citadel Corps. He and Luetta were soldiers at the Hollywood/Pasadena Tabernacle Corps for over 30 years where, for many years, they sponsored the Young Adult Fellowship.
Surviving him are three sons: Richard, Robert and Scott, three grandchildren and one great-granddaughter. His wife Lou preceded him in death in February 2010.
The Riverside Corps (Riverside, Calif.) held a memorial service on Aug. 29; Riverside Corps Officer Major Rick Peacock conducted the ceremony.
Internment services were held at The Salvation Army plot, Glen Oaks Cemetery, Chicago, Ill., on Oct. 2. He is buried next to his wife and daughter.
Brigadier Isabelle Boyington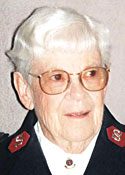 Brigadier Isabelle Boyington was promoted to Glory on Aug. 12, 2010, from Mesa, Ariz., just weeks before her 93rd birthday.
Isabelle was born on Sept. 26, 1917, to Alfred and Myrtle Boyington in Stevens Point, Wis. She attended high school during the Depression. Since her family could not afford the gas for the 12-mile drive back and forth to school, Isabelle found a family who agreed to provide room and board for her and her sister so they could attend classes. This was a Salvationist family who attended the Kenosha (Wis.) Corps. Isabelle attended church with them and became involved in all the corps activities, eventually becoming a senior soldier.
Boyington entered the School for Officer Training in 1938 and was commissioned with the Dauntless Evangelists Session in 1939. She served in many Central Territory appointments as assistant corps officer and as corps officer at Mitchell and Huron, S.D.; and Beatrice and Omaha North, Neb. She especially enjoyed her ministry in Beatrice, where she worked with the juvenile court; many children were paroled to her care. Because of her work with the children, the Nebraska PTA made her a life member.
In 1963, Boyington was transferred to the Chicago Booth Memorial Hospital and she subsequently served at Booth Hospitals in Wauwatosa, Wis.; Omaha, Neb.; and Wichita, Kan.
Boyington retired in 1979 to Arizona, after 40 years of service. She was active at the Mesa Corps.
The Mesa Corps held Boyington's memorial service on Aug. 31, 2010. Lt. Colonel Mervyn L. Morelock officiated.
Gerald C. Clayton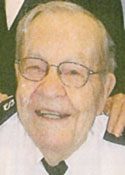 Gerald C. Clayton was born on May 21, 1917 in Alliance, Neb. and was promoted to Glory in Las Vegas, Nev. on September 1, 2010. A long-time member of The Salvation Army, Jerry served as an officer for 24 years. Following officership, he worked as a cost accountant. After retirement, he served as a Chaplin for the Adult Rehabilitation Center. Jerry also served for many years as corps sergeant major for the Las Vegas Citadel Corps.
Surviving him are his wife Dorothy Clayton, daughter and son-in-law Cynthia and Peter Ranaldi, 10 grandchildren and 17 great-grandchildren.