PROMOTED TO GLORY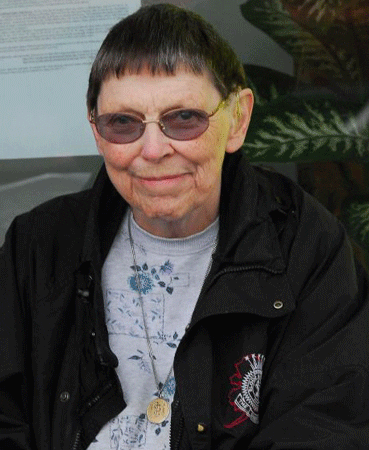 Envoy Corrine Erickson was promoted to Glory Dec. 3, 2011, from Anchorage, Alaska.
Erickson was born Aug. 23, 1935, in Kane, Pa. Following high school, she worked at a children's home in Omaha, Neb., and at an Indian Bible camp in Whittierburg, Wis. She then worked three years with the Seneca Indians in Red House, N.Y., while attending the Lutheran Bible Institute.
After graduating from the institute in 1958, Erickson continued working with children as an outreach and youth director in Minneapolis. She moved to South Naknek, Alaska, where she was a mission worker and fisherman. In 1964, she moved to Cordova, Alaska, to be a house parent to 17 teenage boys. The boys' home re-located to a farm in Wasilla, Alaska, the following year.
Returning to Cordova in 1967, Erickson served the community: 11 years with the police department, three years with the Department of Fish and Game and 28 years with the library. She was a Sunday school teacher and board member with the Faith Lutheran Mission, and opened her home to the needy, also providing free clothing.
During this time, Erickson became acquainted with The Salvation Army. When Army leaders from Anchorage came to town, she met with them to ask who was overseeing the service extension work in Cordova since she could never reach anyone. She left the meeting with a new job—outreach worker for The Salvation Army. When the Cordova Outpost opened in 1996, she became an envoy. She retired in 2003, after almost 30 years of service to The Salvation Army.
Erickson was active with the Cordova City Council, opening every meeting with a prayer. She was a committee member and former grand marshal for the annual Cordova Iceworm Festival Tail Hunt.
In addition, Erickson is remembered for her bar ministry and support of Alcoholics Anonymous. The Cordova Times and the 18th Alaska State Legislature honored her as Citizen of the Year in 1994.
Erickson was preceded in death by her parents, Emil and Elsie, and a half-brother, Arnold, and she is survived by four cousins.
The town of Cordova held a memorial service Dec. 11. Corps Sergeant Major Jody Wildeboer officiated with assistance from Divisional Leaders Majors George and Jeanne Baker.