Promoted to glory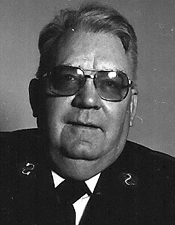 Major Harold B. Wells was promoted to Glory on Dec. 13, 2011, from Wenatchee, Wash.
He was born Oct. 19, 1926, in Stroudsburg, Pa., to Joseph and Ada Wells. As a young man he enlisted with the U.S. Army Infantry and served in the Asiatic Pacific arena and Korea during WWII. Following his military time, he joined The Salvation Army.
Wells was commissioned with the Servants of Christ Session in 1963. During his career as an officer, he and his wife Dorothy accepted appointments in The Salvation Army Men's Rehabilitation Program in San Francisco, Santa Monica and Bakersfield, Calif.; Denver; and Spokane, Wash. They also served as corps officers in Redding, Calif.; Missoula, Mont.; and Wenatchee, Pasco and Renton, Wash.
Although he retired in 1993 in Cashmere, Wash., Wells continued to serve in Alaska and Washington as needed. He was known for his kind heart and great sense of humor.
He is survived by his wife, Dorothy; sons Kenneth, Keith and Kevin; and grandsons, Bryant and Stephen Wells.
The Wenatchee Corps held a memorial service on Saturday, Dec. 17, 2011, with Major Tom Morrow officiating. A service took place on Jan. 6 at the Military Cemetery in Federal Way, Wash. The Renton Corps also held a memorial service on Jan. 6. Major Maynard Sargent officiated.