Promoted to glory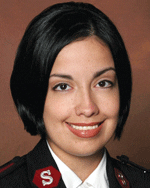 Captain Korina Perez Acosta was promoted to Glory Aug. 24 from Joliet, Ill.
Korina Perez was born Oct. 20, 1979, in Chicago, Ill. Her parents attended the La Villita Corps, Chicago—her mother was a soldier—and they raised Perez and her four siblings there. At age 7, Perez turned her life over to Christ. In 1994, she felt the call to officership while attending an Army congress in Chicago.
After her father's death in 2000, Perez moved to El Paso, Texas, where she met Luis Acosta. They married in 2002. Together they accepted the Lord's call to be Army officers and enrolled at the College for Officer Training in Rancho Palos Verdes, Calif. They were commissioned in 2005 with the Preparers of the Way Session.
Acosta and her husband served as corps officers in Caldwell, Idaho; and the Long Beach Temple and Santa Fe Springs corps, Calif. They then transferred to Chicago, in the Central Territory, to be closer to her family. She was serving as corps officer with her husband at the Irving Park Corps at the time of her death.
Acosta is remembered for her selflessness—despite her illness, she always put the needs of her family and others ahead of her own. She was strong and steadfast—a fighter who never gave up.
Acosta was preceded in death by her father, Roberto; sister, Mina; and nephew, Joshua Trevino.
She is survived by her husband, Luis Acosta; her children, Luis Jr. and Andrea Joy; her mother, Maria Perez; siblings Linda, Nancy and Robert; her husband's parents, Armando and Martha Acosta; and many nieces and nephews.
The funeral service took place Aug. 31, in Joliet, with Lt. Colonels Victor and Rose Marie Leslie presiding.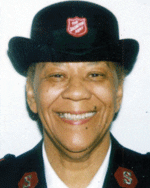 Major Roberta Eleanora Downey was promoted to Glory Aug. 26 from San Diego, Calif.
Roberta Eleanora Lee—known as Bobbie—was born March 27, 1939, in Buffalo, N.Y., to Dewitt and Alfreda Lee, the sixth of their seven children. She was raised in a Christian home and gave her life to the Lord.
Always an advocate for education, she established and became the director of the first Head Start program for children in Lockport, N.Y. Lee always had a servant's heart and a desire to help others. She was a breast cancer survivor and became a caregiver for cancer patients.
Lee met William Tedford Downey, whom she later married, in Buffalo. The couple had five children.
The Downeys became soldiers in Chula Vista, Calif., then auxiliary captains in 1989. They served as assistant corps officers in Chula Vista from 1989-1990, and then as Compton, Calif., corps officers. They became full captains in 1994. In 1996, they were appointed to Inglewood (Calif.) as corps officers, where they served until their retirement in 2005.
During the 1992 riots in southern Los Angeles—considered among the worst civil disturbances in the U.S.—the Downeys' efforts helped to reunite the community.
Lee is survived by her husband; two sisters, Florence Burrough and Alfreda Johnson; five children: Tracey, Robin, Dawn, Lynn (Captain Lynn Stewart), Preston; 12 grandchildren, one great-grandchild and many nephews and nieces.
The San Diego Citadel Corps held a Celebration of Life service Aug. 26 with Captain Osei Stewart, Downey's son-in-law, officiating.