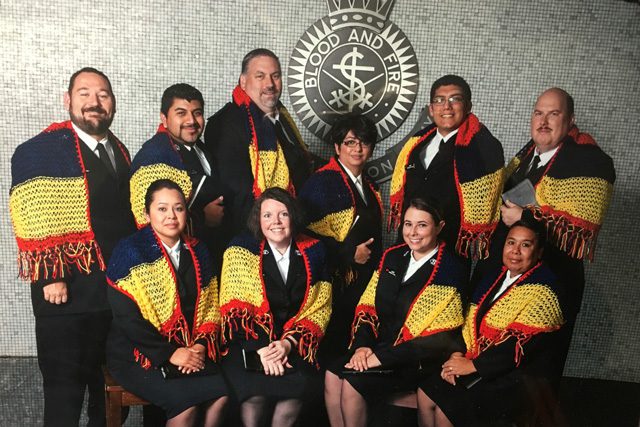 Prayer shawl ministry covers cadets in love
Woman knits to comfort others.
By Hillary Jackson –
When Pat Park found out she had breast cancer seven years ago, she was afraid and started praying. A Salvation Army officer gifted her with a prayer shawl she crocheted along with the encouragement, "I've got you covered."
The shawl brought comfort to Park. "I had that prayer shawl around me all the time," she said.
After her successful mastectomy, she felt the Lord tell her, "you can do those."
And she did.
For five years, Park has knitted prayer shawls for others. First, she made them for women in her home league at the Eugene (Oregon) Corps. She now knits for first-year cadets at the College for Officer Training at Crestmont and others she'd like to comfort the way she'd been comforted.
With each stitch, Park prays. She estimates one prayer shawl takes 10 to 12 hours to make, though she doesn't do it all in one sitting.
"I spend a lot of time with the Lord and a lot of time in prayer," Park said. "You don't just do a prayer shawl by knitting and that's all—you pray…I pray to the Lord and he tells me what he wants me to do, and right now, this is the only thing I can do."
Park's health limits what she can do. Previously, she volunteered with the youth and played piano on Sunday mornings. She said right now, even attending church is not possible. Still, she knits on, mostly in Army colors—blue, red and gold—but she'll take requests, too, like Eugene Corps Officer Captain Sabrina Tumey's favorite colors: purple and white.
At this year's Commissioning, Tumey stopped Major Pamilla Brackenbury to share her prayers for Brackenbury and her family as they moved to another appointment to lead the Alaska Division.
The pair prayed together and Tumey gave her a prayer shawl and shared about Park's ministry.
"One of the first things I found as we were unpacking was the prayer shawl," Brackenbury said. "I have placed this on the end table with my Bible and there is a constant reminder of the prayers for me as well as the opportunity I have to pray for others and continued daily prayer for my family."
Since Park is largely homebound and ships many of the shawls off, she often won't meet those who receive them, but sometimes she'll get notes from them in the mail.
"It's really blessed me to know that some of them enjoy it and wanted to let me know," she said.
To distribute the shawls, Park connects with a cadet at CFOT, who serves as a point person. When she was a cadet, Lt. Chelcee Humphrey served as that contact, since she grew up in the Eugene Corps.
Once the shawls came in, Humphrey told the cadets about Park and how she prays over each stitch.
"Pat really has a servant's heart," Humphrey said. "She almost became an officer when she was young.  She loves the Lord and she loves The Salvation Army."
After Humphrey's sessionmate, Lt. Heather McBride, received a prayer shawl as a cadet, she went through a time when she was struggling.
"I couldn't figure out what to write a sermon on and God was being silent," McBride said. She put on the prayer shawl, went into prayer and the sermon started flowing. "It's just amazing that in a time I was struggling, this prayer shawl brought comfort to me, knowing the love and all the prayers that had gone into that piece of cloth."
When McBride was commissioned, she was appointed to the Eugene Corps, and got to meet Park. "It was just an amazing experience to meet her," McBride said.
While she continues to pull out the shawl as an officer, she knows how meaningful they can be for those pursuing officership.
"As a cadet, life can be lonely, and it's very comforting to know how much you're being prayed for," McBride said. "Sometimes the enemy likes to make us forget that our individual struggles are not alone…that our fellow people are facing the same thing… It's comforting to know when you have people praying for you."