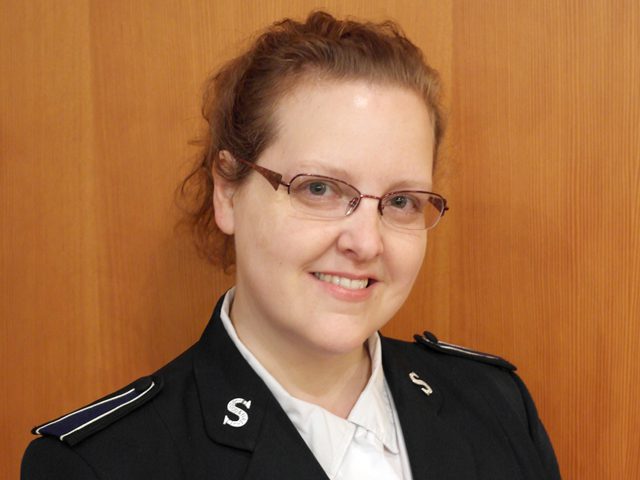 Portland Salvationist earns doctorate degree
Bonnie Robb is now a doctor of education in learning and leading with a neuroeducation focus.  
After three years of night and summer classes, and a lot of writing, Portland (Ore.) Tabernacle Salvationist Bonnie Robb received her doctorate in education from the University of Portland.
"It's been a long road, but I've had great support from my family, friends and corps family throughout this process," Robb said.  
Designed for working educators, the University of Portland neuroeducation doctoral program–one of a few in the U.S.– joins schools such as Harvard, Vanderbilt, Columbia, Johns Hopkins and Gallaudet in offering a doctorate in education with a program that triangulates research in neuroscience, cognitive psychology and language. Robb is one of the first to graduate from the University of Portland with this degree.
She also received her bachelors and masters degrees, both in education, from the University of Portland, located in North Portland where she grew up attending public schools and The Salvation Army.
[gss gallery ids="19415,19416,19417″]
"My whole life my family has made it clear that education can contribute to a successful life," Robb said. "When I was a kid, every weekend we would take the bus downtown to the library and come back with a big stack of books to read.
"My mother earned her associate degree when I was a teenager. She really inspired me to continue my own education so I could follow my dream of being a teacher."
Robb's mother currently works for The Salvation Army at Cascade Divisional Headquarters in the finance department.
Some of her strongest encouragement came from a member of her corps family, Major Dale Hill, recently promoted to Glory. He also had a doctorate in education and was one of Robb's biggest supporters.
"Major Dale was always asking me how 'it' was going: which chapter of my dissertation I was on, how the editing was going," Robb said. "Outside of my family, he was the kindest, gentlest support I had–a true example of a fine, caring, Salvation Army officer."
Robb's dissertation, "A Paradigm Shift in Classroom Learning Practices to Propose Methods Aligned with a Neuroeducation Conceptual Framework," supports the use of neuroeducation practices in a public school general education classroom.
"In simplest terms, it suggests that teachers stop teaching in a way that makes them most comfortable and instead help their students learn in their best possible way," Robb said.
Part of Robb's inspiration comes from her faith.
"Christ as teacher has always fascinated me," she said. "When I read his words as he taught, it is clear his goal was to reach the people where they were. At a level they could understand. He broke down some really major concepts into the simplest of terms so everyone could access his grace and forgiveness. He wanted everyone to be able to understand what he was trying to teach. That should be the goal of every teacher, whether they are teaching in the front of a classroom of kids, or from a pulpit."
Bonnie Robb, Ed.D, is a wife, mother and second grade teacher, as well as a soldier and worship team leader at the Portland Tabernacle Corps. Robb is a recipient of the national Milken Educators Award and was recognized by Kappa Delta Pi as a Teacher of Honor.