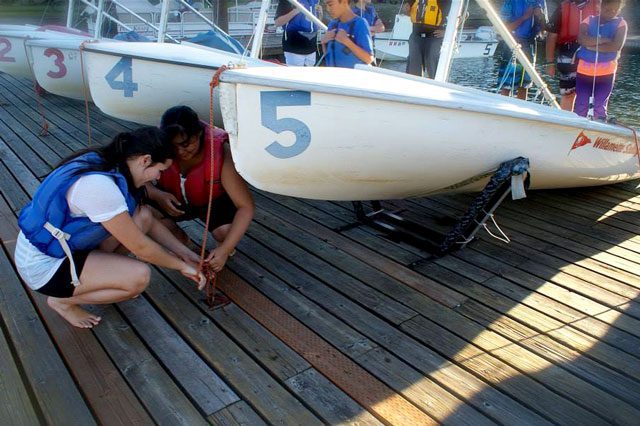 'Keep calm and sail on'
Portland Tabernacle Corps offers sailing classes to youth.
By Jenni Perine, Major – 
During September The Salvation Army Portland Tabernacle Corps partnered with the Willamette Sailing Club to give four weeks of sailing lessons to young people aged 12-16. Each Friday afternoon, the youth spent two hours learning the basics of sailing.
Lesson one–"Safety"– included capsizing drills during which the students purposely capsized the boat and then righted it and got back in.
"That was awesome," 14 year-old Darryke Spry said after his turn capsizing, voicing the view of all the kids.
"Capsizing removes the fear of being in the water," said Corps Officer Major Ken Perine, "and builds the kids' confidence in their own abilities."
Instruction took place in the classroom and on the Willamette River in small 4/20 sailboats. The lessons covered terminology, knot tying, points of sail and using the tiller to steer the boat.
"The kids really looked forward to going every week," said April Jacob, young people's sergeant major.
The classes provided more than just a fun time on the water.
[They were] "an opportunity to learn leadership as the kids take turns sailing the boat and leading the crew," Perine said. While The Salvation Army offers various opportunities for leadership development, this was an exciting, new endeavor.
"It's fun because it's different," said 12-year-old Levi Williams.
Synchronicity brought about the partnership between The Salvation Army and the Willamette Sailing Club. When Perine, himself an avid sailor, arrived in Portland as the new corps officer, he visited the club to find out where he could sail his own boat. He met Club Manager Dave Valentine, who had arrived in Portland a few months earlier.
Unbeknownst to Perine, Valentine had contacted Cascade Divisional Headquarters with a plan to offer sailing lessons to young people who would not normally have that opportunity. Perine had long had a vision of providing such classes to young people through the Army, and so this new program was born.
The classes will be held again in the late spring of 2015. In the meantime, the young people are encouraged to "Keep Calm and Sail On."