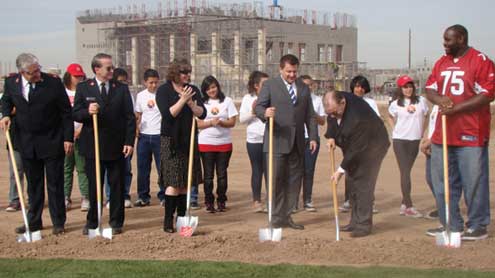 Phoenix South Mountain Corps begins construction of new football field.
by Melissa Axman
Sports programs at the Phoenix South Mountain Corps—soon to become a Kroc Center—have an excellent reputation—for decades they have been the primary draw for area youth. From this vantage point, young people are exposed to positive role models, supported in developing team-building and leadership skills, encouraged to excel academically, and offered alternative life choices to those they are exposed to on the street.
Recognizing this excellence, NFL Charities awarded The Salvation Army a $100,000 challenge grant to build a state-of-the-art multi-purpose field at the new Kroc Community Center. On Tuesday, Nov. 23, 2010, Southwest Divisional Commander Lt. Colonel Doug Danielson kicked off construction of the new field by breaking ground on the site with representatives from the NFL, Arizona Cardinals and LISC (Local Initiatives Support Coalition).
"The Arizona Cardinals are pleased to partner with NFL Charities and LICS to bring this opportunity to South Phoenix," said Arizona Cardinals President Michael Bidwill.
"We are proud to provide The Salvation Army's new Kroc Community Center with a quality football field for Valley children and their families."
The goal of the NFL Charities grant is to provide non-profit, neighborhood-based organizations with financial and technical assistance to improve the quality, safety, and accessibility of local football fields. This field will provide Valley youth and their families with a variety of recreational and competitive team and group sports opportunities.
The combination of the main field and the other fields allows regional and national tournament play, serving thousands of team participants from the South Mountain community, the Valley and other states. The Salvation Army estimates that between 12,000 and 15,000 youth and their families could use these fields on an annual basis.
Majors Guy and Denise Hawk are the Phoenix South Mountain corps officers. Lt. Loreen Petzing is assistant corps officer.
For more on The Salvation Army's ministry at Phoenix South Mountain, see New Frontier, Vol. 28, no. 19, Nov. 24, 2010.