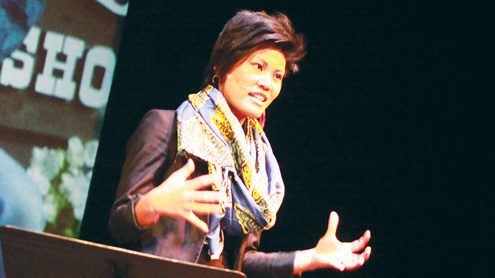 Passion incites solution
First-ever Aspiring Entrepreneur Day focuses on innovators
By Christin Davis
It was sometime during the Industrial Revolution—when creations ranged from anesthesia, to the photograph to the steam engine—that entrepreneurship first came to be noticed. Regarded as the main instruments of change, entrepreneurs were enterprising in their exploit of commercial opportunities.
"Entrepreneurs are innovators," said Larry Cox, professor of entrepreneurship at the Pepperdine University Graziadio School of Business Management. "They aren't thinking about the economy or what industry is hot. Entrepreneurship is a very personal thing; you have a problem and a solution to it that you think others may want."
It's personal, and it starts with passion.
"The drive comes from finding a problem you care about enough to solve," Cox said.
The Salvation Army Western Territory brought together ambitious and successful entrepreneurs March 9 for the first-ever Aspiring Entrepreneurs Day, a joint effort between the Territorial Youth Department and the flagship Ray and Joan Kroc Corps Community Center in San Diego.
The event featured a six-person roster, including entrepreneurs across spectrums—from branding, the story of creating identity, ecommerce, publicity, education, to using entrepreneurship as a ministry.
The idea originated with Per Welinder, pro skater and brand entrepreneur, who became interested in The Salvation Army after meeting Jim Sparks, youth development and leadership director in the Western Territory.
"He talked about how he'd started doing entrepreneurship talks at UCLA, and I asked if he'd want to do something similar with The Salvation Army," Sparks said.
Legendary surf photographer Aaron Chang then signed on, and Sparks soon had more entrepreneurs willing to participate than would be possible.
"As a whole, it turned out to be a well-rounded group, encompassing the spirit of entrepreneurism, some from a Christian perspective," Sparks said. "It ended up becoming a neat evangelistic meeting."
Sparks said the event was a natural fit for the Youth Department.
"Each of these presenters started young with a concept," he said. "A lot of people have an idea, but are not sure how to get going on it. This opened up a new door for us to broaden our teaching, especially considering entrepreneurship is the foundation of The Salvation Army."
From a matchbox factory to soup kitchens, The Salvation Army has a long history of finding solutions to problems—all starting with passion, something these entrepreneurs know well.
Chang, long-time photographer for Surfing Magazine and now CEO of the Aaron Chang Gallery in Solano Beach, Calif., said he wanted to do nothing but surf, so he left for Hawaii just three days after graduating from high school.
"When I went to the North Shore for the first time at age 17, it was everything my heart desired," he said. With no supported industry around surfing in the mid 1970s, Chang took pictures of tourists at luaus for $10 per night and worked at a camera store for $1.75 per hour.
"It takes desire, fortitude, conviction and dedication to have success," Chang said. "Entrepreneur equals really, really hard to do."
Chang said your community and character are critical.
"Your brand is you. Once you are known, it's difficult to rebrand," he said.
What surfing was to Chang, skateboarding was to Welinder. Two-time World Champion Freestyle Skateboarder, Welinder was sponsored by Swatch Watch and performed stunts in Back to the Future. He started his first business, Birdhouse Skateboards, with Tony Hawk, and today is president of Blitz Distribution.
"A brand is a collection of shared associations," he said. "It should boost recognition, reputation and rewards."
Welinder said it's important to remember that everything you display to the outside world will brand you, including those you associate with.
"Think of it as a draft and pull, like a bicycle," he said. "Where do you want to go? Who do you want to work with? Set a timeline to implement your goals."
For some, these goals are dreams. But others, as Gavin Schofield-Smith, a Salvationist and private school owner, said, wake up and work hard to achieve it.
"So many times people say, 'I could've done that,' but they have some excuse why they didn't," Schofield-Smith said. He outlined seven steps for would-be entrepreneurs.
"Find a mentor and draft behind him or her," Sparks said. "What are they doing right? What are their mistakes, and how can you avoid doing the same?
This kind of observation, Cox said, can be invaluable.
"Entrepreneurs approach problems differently, and sometimes can't articulate what they know," Cox said. "It can be like watching a really good basketball player to see what they do. There's tremendous value in seeing someone do what they do well."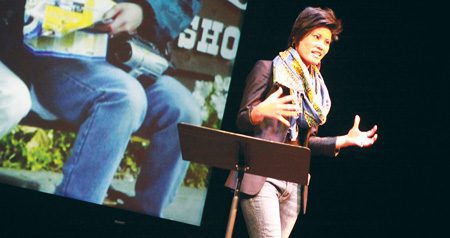 Yet, Sparks cautioned not to assume a mentor will find you.
"The mistake is to believe someone will seek you out and take you under his or her wing," he said. "You have to go out and ask questions and make the connections. Talk to your corps officer. Maybe there's someone on the advisory board you could connect with."
Sparks said other Kroc Centers and camps have expressed interest in hosting future Aspiring Entrepreneur Days.
"Because you do what you're passionate about, being an entrepreneur is an opportunity to really change the world in whatever way you want to," Cox said. "Starting your own company is great way to express your own values, and entrepreneurs are the ones positively effecting change in their communities."