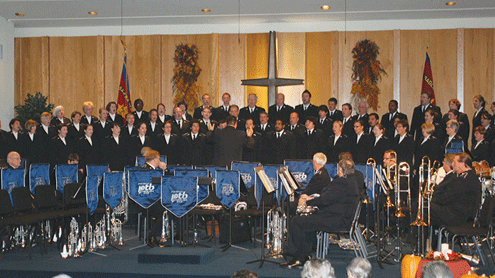 Pasadena Tab celebrates the 'Light'
By Julie Jennings
The Pasadena Tabernacle Band's annual Thanksgiving Festival of Music continued a more than 70-year tradition of praise and thanksgiving through music Nov. 10 at the Pasadena (Calif.) Tabernacle Corps.
"Since 1935, the Tab Band has been bringing people together for the holidays by kicking off the season with the annual Thanksgiving Festival Weekend," Bandmaster Bill Flinn said. "This year's version, with the theme of 'Light,' reminded participants and attendees alike of the privilege and responsibility as Christians to carry [Jesus'] light in our daily walk of life."
The evening included not only the Tab Band, but also the Tabernacle Songsters and special guests Colonels John and Valda Bate. John Bate served as master of ceremonies.
The program began with Martin Cordner's upbeat piece, "Light-bringer," highlighting the familiar tunes "Send the Fire,"  My Jesus I Love Thee," and "O Boundless Salvation," and continued with the swing arrangement, "Time to Shine" featuring John Docter on trumpet, James Allen on trombone, and Steve Wood on bass.
The Tabernacle Songsters started its set with Richard Philips' jubilant "Sing for Joy." Joy Webb's "Candle of the Lord" featured Barbara Allen as soloist.
The band also featured pieces composed by former Tab Bandmasters—Bill Gordon's "Salvation Song," Barrie Gott's "Lightwalk" and James Anderson's "Goldcrest"—as well as the musical journey from darkness to light encapsulated in Peter Graham's "Shine as the Light."
In his devotional thought, Bate spoke of Holman Hunt's famous painting, "The Light of the World," challenging the congregation with the question, "How many times [have we] come to church and not seen the light of the world?" He reminded each person, "The light of the world is here tonight for you."