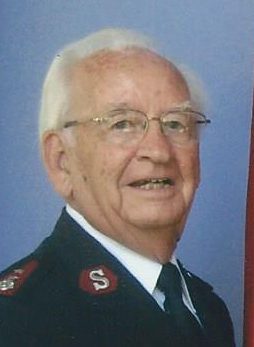 Brigadier Robert R. Yardley
Brigadier Robert R. Yardley was promoted to Glory March 6 from Sacramento, Calif.
Robert Yardley was born March 11, 1923, in Arvada, Wyo. The family moved to Pocatello, Idaho, where Robert and his three sisters and one brother grew up attending The Salvation Army.
During World War II, Yardley worked for the Morrison-Knudson Company contracting for the U.S. Navy. In 1942 he married Olive Smith, whose parents were pioneer officers of The Salvation Army in Washington and Oregon.
The Yardleys completed Salvation Army officer training in 1943 with the Valiant Session, and served as corps officers in Medford and Coos Bay, Ore., and in Eureka, Bakersfield, Riverside and San Bernardino, Calif. After assignments as divisional youth secretary in the Hawaii, Northern California and Southern California divisions, Yardley was appointed divisional secretary in the Northern California Division.
In 1967, the Yardleys moved to San Diego where they served seven years, with Robert as city commander. They were highly regarded in the community and in 1974, Yardley was recognized as "Man of the Year" in San Diego County.
Prior to becoming territorial evangelists in 1984, the couple spent seven years as corps officers in Oakland, Calif., and as adult rehabilitation center administrators in San Jose, Calif.
As an evangelistic team, the Yardleys traveled the West towing their own "wagon train" (an RV) for camp meetings. Yardley began the vacation Sally Trailer Club with up to 200 attending each year. He was known as both "Uncle Bob" and the "Wagon Master."
Yardley attended the first Brengle Institute, was on the staff of the Seminar on Evangelism for five years, and was session president at the International College for Officers. He retired in 1988—the last officer to retire with the rank of Brigadier.
Yardley also served the community as Protestant chaplain for the San Jose Fire Department, and on the board of directors of Rancho Laguna Seca and the Kiwanis and Rotary service clubs.
Survivors include his wife, Major Carol Madsen-Yardley; sister, Captain Betty Pearson; children: Raunie (Atle) Aasland, Gary (Patricia) Yardley, Robert (Janet) Yardley; nine grandchildren and two great-grandchildren.
He was preceded in death by his first wife, Olive, and youngest son, Steven Loren Yardley.
A memorial service took place March 22 at the Sacramento Citadel Corps with Major Ken Osbourn officiating and  Commissioner Rob Saunders speaking.
In lieu of flowers the family requests that memorials be made to Camp Del Oro, 20864 Rector Road, Nevada City, CA 95959.