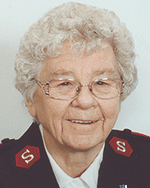 Major Vera Elliott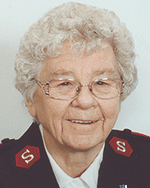 Major Vera Elliott was promoted to Glory Jan. 10 from hospice care in Sun City, Ariz.
Born Aug. 16, 1920, in Ontario, Canada, to Salvationist parents Herbert and Gertrude Faulkner, Vera grew up in the London Citadel Corps. She and sister Shirley were often asked to join their parents in providing vocal numbers during the Sunday services. Vera served as Girl Guard leader for many years of one of the largest troops in the Ontario Great Lakes Division.
Vera met Clarence Elliott in the corps, and the two were married May 15, 1940. Soon after, Clancy served seven years overseas as a paratrooper in the Canadian and British forces. The pursuit of employment later took the Elliotts and their children, Bonnie and Brian, to Elgin, Ill., where Vera worked for D.C. Cooke Publishing Company. The family then moved to Pasadena, Calif., and the Elliots became Auxiliary Captains—among the first in the Western Territory.
On Sept. 21, 1961, they took their first appointment as corps officers in Chula Vista, Calif. Three years later they transferred to Lancaster, a stay of seven years. June 1970 the Elliotts moved to Burbank, Calif., where Vera was honored as Woman of the Year in 1972. She was also elected chaplain of the Mira Loma Auxiliary and contributed a monthly article in the patients' newspaper. In June 1974 the Elliotts were appointed to San Bernardino, Calif., where Vera held a weekly Home League and Senior Club of 80 or more people, one of the largest in the division.
The Elliots retired in 1983 from Medford, Ore.
Vera is survived by her son, Brian (Audrey), Major Joyce Stevenson, four grandchildren, seven great-grandchildren and one great, great grandchild. She was preceded in death by her daughter Bonnie (1990) and husband Clancy (1994).
A memorial and committal service was held Feb. 8 at the Sun Cities West Valley Corps in Surprise, Ariz. Commissioner Kurt Burger officiated and Lt. Colonel Alfred Van Cleef led the committal.