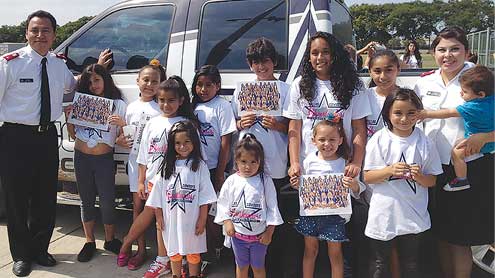 Oxnard Corps meets Dallas Cowboys
200 corps members visit the NFL team's training camp.
The Dallas Cowboys invited 100 children and their families from the Oxnard/Port Hueneme Corps to its training camp in Oxnard, Calif., for a three-day community outreach event.
"Many of [those] who went were low-income families, and had never experienced this before," said Lt. Manuel Gaytan, corps officer.
The event commenced with 15 girls attending Dallas Cowboys cheerleading camp, where 12 of the NFL team's cheerleaders taught them a routine.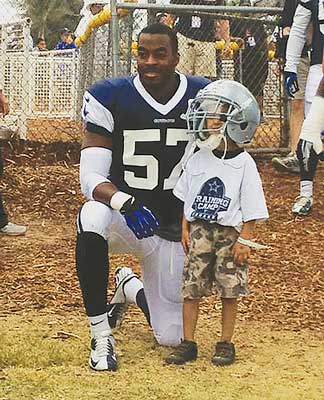 "It was really exciting to see the cheerleaders," said Cheyenna Reyes, one of the participating girls. "I had never seen them before, and want to be one of them."
Corps members also attended the opening day of the training camp where the Dallas Cowboys passed out gift bags with a team picture, Dallas Cowboys cup and football to each attendee. The football players greeted and took pictures with people, and even autographed the children's footballs.
"The children's faces were full of excitement, and they were anxious to see the football players train from up close," Gaytan said. "The Dallas Cowboys treated us so well, and were very happy we were there."
The event ended with 30 children walking the field with one of the players while holding the Dallas Cowboys helmets.
"You did not see a single child without a grin on their face," Gaytan said. "The time invested in preparing the event and experiencing it with the families was extremely worth it."