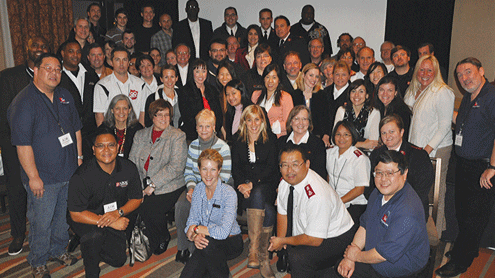 Over 200 delegates talk Kroc
Kroc and Community Center Conference builds personnel skills
By Christin Davis
Just over 200 people from throughout the U.S. attended the 2012 Kroc and Community Center Conference, held in Denver, Colo, in late February.
"It's fitting that this conference meets in the West in the 10th anniversary year of the first Kroc Center in San Diego," said Colonel Dave Hudson, chief secretary in the Western Territory while greeting delegates at the opening banquet.
That evening, Kay Coles James, president and founder of The Gloucester Institute, told the room of Kroc and community center personnel, "The work you do is making a significant difference in communities around the nation…and it's a jungle out there." James said she grew up in a public housing project in Richmond, Va., and first learned of The Salvation Army when her mother dressed her from the local thrift store. Eventually working for the government, James said, "It was my job to deliver social services to the neediest among us to bring a kinder, gentler nation, but I learned that the kind of social services that do the most good—got that?—are in the private sector.
"When it comes to understanding human need, I've come to understand that what people need most is redemption," James said. "A government program cannot put the arms of Jesus around a person."
She challenged the delegates to have the high skills needed to run a major business. "The public expectation is that if it's Christian, it's mediocre at best," she said. "It is therefore incumbent on us to be excellent."
Various general sessions and workshops throughout the conference instructed delegates on the details of their work, from recognizing key indicators for financial performance, to integrating the corps into the center, to marketing or facilities management.
Ruby Newell-Legner, an international speaker who helps facility managers build better relationships, provided the seven-step process to seven star service to "turn every customer into a fan." She explained how relationships, knowledge and standards are key to providing outstanding customer service, and urged delegates to write down a few things to improve in his/her center's service before returning.
"The conference addressed a wide range of significant topics that will help Kroc Centers, divisions, and territories to optimize programming and fulfill The Salvation Army mission," said Steve Bireley, Kroc Center coordinator in the Western Territory. "Perhaps the most important element was the opportunity for officers and staff to share experiences and lessons learned at Kroc Centers across the nation. Relationships made at the conference have created a total that is more than the sum of the parts, and the continued sharing and development of ideas will help us to deliver our programs and services with maximum efficiency."
Eight currently efficient programs from across the U.S. were presented in a best practices poster session, including Kroc Crew Work Experience (Ashland, Ohio); Youth Express Scholarship initiative (Augusta, Ga.); building a proactive customer service campaign (Coeur d' Alene, Idaho); municipal partnerships (Grand Rapids, Mich.); positive behaviors, interventions and supports (Green Bay, Wis.); marrying marketing and programming (Kerrville, Texas); the Kroc K Club Scholarship fundraising campaign (Omaha, Neb.); and the Kroc Fit Kids program (San Diego, Calif.).
Immediately following the conference, the National Kroc Task Force met.
"It was energizing for our Kroc Center teams to be able to talk with others doing the same type of work in this new venture," said Commissioner Carol Seiler, chairperson of the task force and territorial leader in the Central Territory with her husband, Commissioner Paul Seiler. "All around there were clusters of people in earnest conversation. There is uniqueness to the intensity of this ministry and in these early years it is essential to share in discovery and learning together. I am grateful to the task force members for the professional collegial efforts to improve our mission impact through the Kroc Centers."
This summer, Caring focuses on "All Things Kroc." To subscribe, email caring@usw.salvationarmy.org, call 562-491-8723, or visit facebook.com/CaringMagazine.