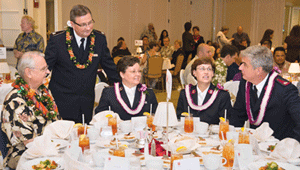 Outstanding partners recognized
The Salvation Army in Hawaii honors its partners in community service.
By Daniel de Castro
The Salvation Army in Hawaii showed its appreciation to its volunteers and partner organizations on March 18 at the annual Partners in Community Service Awards banquet, held at the Kahala Hotel in Honolulu. Western Territorial Commander Commissioner James Knaggs gave the keynote address at the luncheon, and Hawaiian and Pacific Island Divisional Leaders Majors Edward and Shelley Hill presented the four awards.
Bank of Hawaii has been a strong supporter of Army programs through its generous financial grants, which have sustained community-based programs. Employees have donated personal time to ring bells during Christmas, as well as to refurbish the aging Kaimuki facility, which houses women in recovery and their children.
Kanu Hawaii has inspired and mobilized thousands of islanders to work toward sustainable, compassionate and resilient communities through its island-style activism. Its volunteers supported and worked alongside homeless women in recovery in an Army housing facility.
Micah Kane, while serving as director of the Department of Hawaiian Home Lands, helped The Salvation Army secure prime property in the Kapolei region for the soon-to-be Kroc Center, which will be the largest community center of its kind in Hawaii.
Mike Wood had a vision to ensure that abused and neglected children have a safe haven to grow and flourish. His financial support helped build Ho'opono O Na Kamali'i, which has provided love and care to more than 200 displaced and neglected children in Leeward, O'ahu.