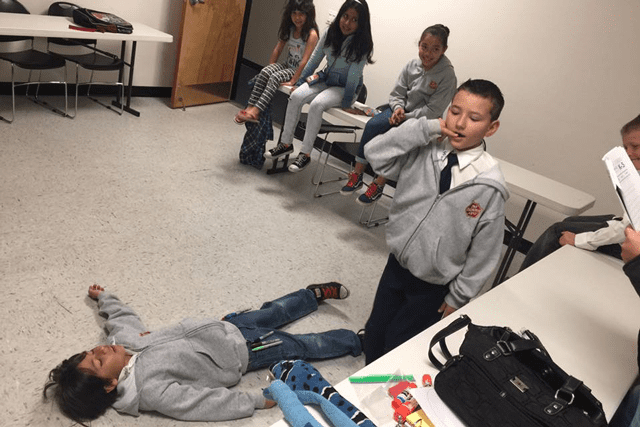 Orange curriculum set for June release
After piloting new Sunday school lessons, training to follow across the territory this spring.
By Caitlin Johnston –

Lt. Hilda Parks has noticed a change in her corps' Sunday school classrooms. There's an energy that wasn't there before.
The Escondido Corps was one of the first to pilot The Salvation Army's
new Sunday school curriculum
, known as Orange.
When she used to walk by the classrooms, she'd see kids sitting and reading. Maybe listening or coloring. Now, she hears laughter and discussion. Their reaction to the material is palpable.
"I really love it, because you can hear them smiling and they're acting the lesson out," Parks said. "It's very nice to see. We didn't have that before."
After piloting the Orange curriculum in a number of corps, the Western Territory is offering training for all leaders this spring. The Orange curriculum will then launch nationwide in June.
Leaders are hoping the innovative, engaging format will help them connect with the younger members.
Orange focuses on merging church and home life at four different stages in a child's life in order to grow his or her faith. All four stages are web-based and use video and other multimedia to engage with the kids.
First Look, a curriculum for babies through 5-year-olds, is based on on three simple concepts: God made me, God loves me, and Jesus wants to be my friend forever.
Once kids start kindergarten, they move to the 252 Basics program where they stay through 5th grade. This part of Orange is focused on the message in Luke 2:52, and encourages kids to make the wise choice, trust God no matter what and treat others how they want to be treated.
The middle school program, known as XP3, is centered around wonder, discovery and passion. Wonder for who God is, discovery of who he created them to be, and a passion for loving others.
The final stage is XPS for high school students and works to keep those teenagers engaged even as faith competes with all sorts of other elements in their lives. It also has a small group component that Parks thinks will be particularly important for helping create a lasting relationship with faith as these students move away from home as young adults.
"That smaller group time is a chance to know them a little better," Parks said. "We talk about what happened during the week, if there are prayer needs, what's going on in the family, and how we can help them better to grow and remain continuously in the church."
Parks said the Orange curriculum does a better job of this than previous programs. By making the lessons more personal and taking time to really interact with the kids, it allows the students to build a deeper, more meaningful relationship with the church
"When they reach the end of high school and they go to college, we lose them as they transfer to another city for education purposes," Parks said. "But if we really take our time and make it personal, wherever they go, we know they will be OK because they have that relationship with God and the church."
Parks said adapting to the program can be slightly intimidating at first, but is well worth the investment. For those corps starting Orange this spring, she encouraged them to find a way to narrow the curriculum and pick one or two ideas they like best each lesson. Otherwise, the material can seem a little overwhelming.
"When you read all of the material, it's a lot," she said. "The trick is if we the teachers make it personal and take what is best from it, then the kids will love it."
It's also important to make sure that every part of the church and corps is engaged in the new mission, said Major Kris Potter of the Renton Corps.
"You're moving a whole congregation in this direction," Potter said. "We the leadership had to really buy into and have that 'ah ha!' moment. It was really fun to see people coming alive with the curriculum and the videos and this new format."
Potter said it's also important for each corps to find a way to make the Orange curriculum their own. Orange provides a broad modernization of the traditional Sunday School mentality, but it's up to leadership to take those elements and adapt them to their own congregation.
Between the videos, life lessons and level of honesty, Potter said Orange really allows the student to engage in their faith in a relevant way that has a lasting impact.
"What we want more than anything else," Potter said, "is for faith to stick."