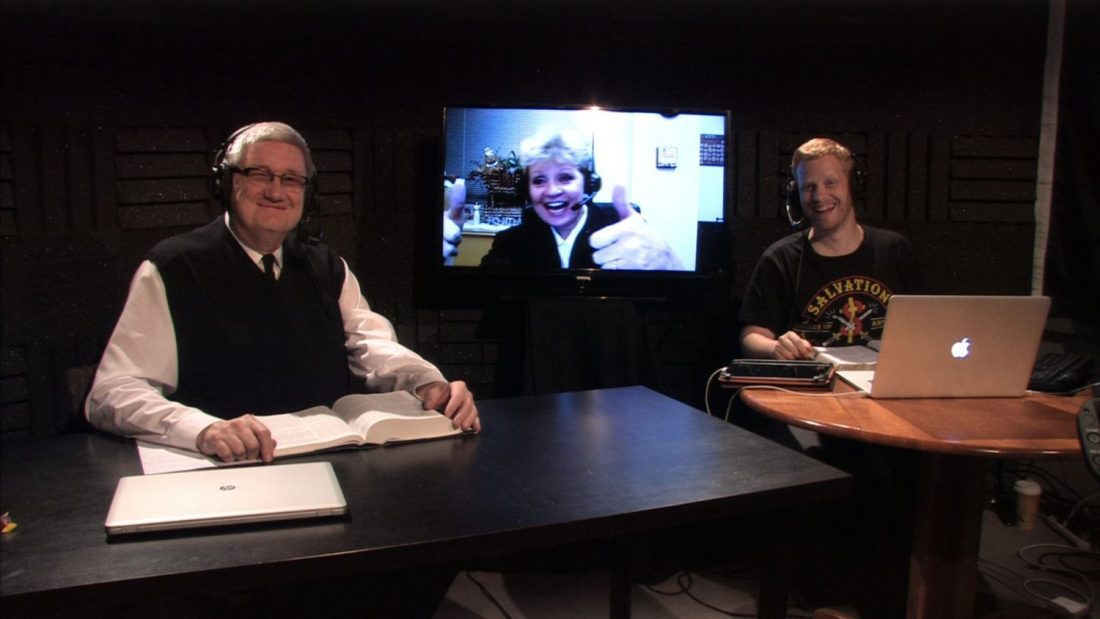 Online evangelism with OnlineCorps
By Vivian Gatica –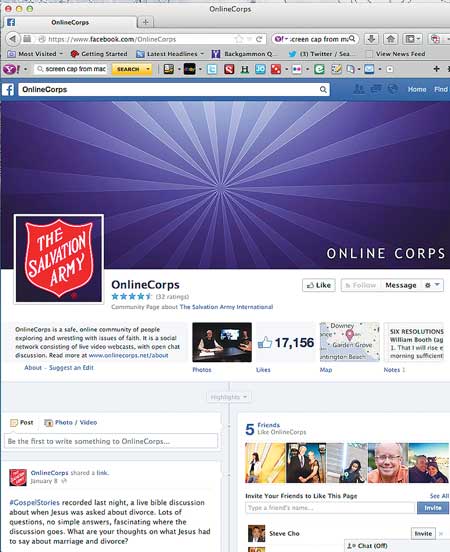 Since beginning in September 2012, OnlineCorps has linked thousands of viewers to The Salvation Army through videos and evangelical resources. Although it is a Western Territory creation, its outreach stretches beyond the territory's borders.
"In every way possible, we've become a corps like a local corps; all the things that happen at a local corps—where it can translate online—we have online," said Grant Whitehead, Western Territory social media champlain. "We have a worship community, a place that people come to be encouraged and held accountable to living a Christian life…and it's uplifting and enjoyable."
The number of OnlineCorps members has increased from 609 to 1,654 in the span of eight months with 215 people committing themselves to Christ online.
Whitehead attributed the ministry's growth and success to its coverage of important Salvation Army Western Territory events, which include the Welcome of Cadets, Commissioning and band concerts.
"What we find is that people find OnlineCorps through an event," Whitehead said. "So they might not have ever heard of [it], but they watch an event and from there discover all this other stuff and they continue to come back."
December 2013 marked a milestone for the ministry as its YouTube channel received 14,605 views, the most in a month since its creation. This, in part, was due to the popularity of the Southern California Division's Night of Wonder 2012 Christmas concert.
"It's amazing to have a backlog of all this content that people seem to just stumble across and find," Whitehead said.
In addition to the ongoing "GospelStories" and "LifeStories," the website premiered a new show called "Rejoice" with the music department. It teaches viewers about worship through music and other performing arts.
OnlineCorps has also guided 15 people through six weeks of soldiership classes with many looking to be enrolled or enrolling at their local corps.
"We are still journeying with these individuals as to what their next step is," Whitehead said. "We have other people who are not connected to a local corps [or] can't access a local corps, so we're working on how that looks."
Recently, the ministry has developed a mobile app, available on iTunes and Google Play, allowing smartphone and tablet access to all the website's resources and content.
Whitehead hopes to break into different languages in the future to reach out to audiences in Spanish, Chinese and Arabic, in addition to English.
"I'd love to do a GospelStories where we talk about Jesus from the perspective of the Muslim faith, but actually from a Christian angle," he said.
According to Whitehead, OnlineCorps appeals to many people who are geographically or socially isolated from attending a local corps or church.
"The lost, the last and the least are found online," he said. "We're finding these people online."
If face-to-face ministry is like a six-string guitar, Whitehead said, online ministry is a one-string guitar.
"A six-string guitar has extra elements to it, and it's different. There's a lot of elements going on, but do we deny the one-string guitar from being music? Not at all," he said. "Online community, ministry and mission is absolutely valid."