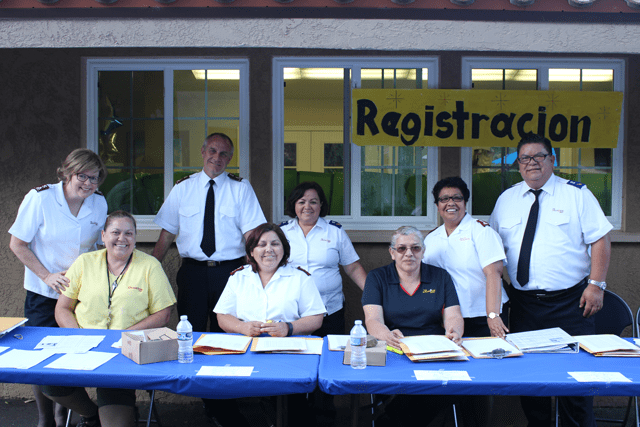 'One thing I ask'—Southern California Latino Family Camp at Camp Mt. Crags
One thing I ask from the Lord, this only do I seek: that I may dwell in the house of the Lord  all the days of my life, to gaze on the beauty of the Lord and to seek him in his temple. For in the day of trouble  he will keep me safe in his dwelling; he will hide me in the shelter of his sacred tent and set me high upon a rock. Then my head will be exalted above the enemies who surround me; at his sacred tent I will sacrifice with shouts of joy; I will sing and make music to the Lord (Ps. 27:4-6 NIV).
This Scripture provided the theme for The Salvation Army Southern California Division's annual Latino Family Camp, held in late August at Camp Mt. Crags and Gilmore in Calabasas, California. Latino families from all over the division—a total of 634 delegates—gathered for a weekend of spiritual renewal, fellowship and fun.
Special guests Majors Pedro and Elizabeth Delgado delivered powerful messages, exhorting all present to be families rooted in their faith, and to establish and strengthen a sincere relationship with the Lord. This relationship—based on trusting in his promises and obeying his Word—enables his people to respond to the modern-day challenges facing families.
"We were all called to a healthy fellowship and active participation at our corps, seeking to expand the gospel of salvation in our communities and the spiritual strengthening of this generation," said Envoy Manuel Martinez, In-Charge of the Santa Fe Springs Corps.
Camp activities included an open-air concert that allowed first-time guests an opportunity to acknowledge Jesus Christ as their savior. Campers also enjoyed several game-show style competitions, as well as soccer, basketball and nature walks. The workshops for adults and the children's activities focused on building up the spiritual life and Christian values at home.
Divisional Secretaries for Latino Ministries Lt. Colonels Zoilo and Magali Pardo coordinated the event, with the support of Divisional Commanders Lt. Colonels Kyle and Lisa Smith. In addition, Majors Lex and Patricia Giron and the organizing committee attended to all the details of a successful camp experience.
"To God be the glory and the honor," Martinez said.
Reporting by Envoy Manuel Martinez