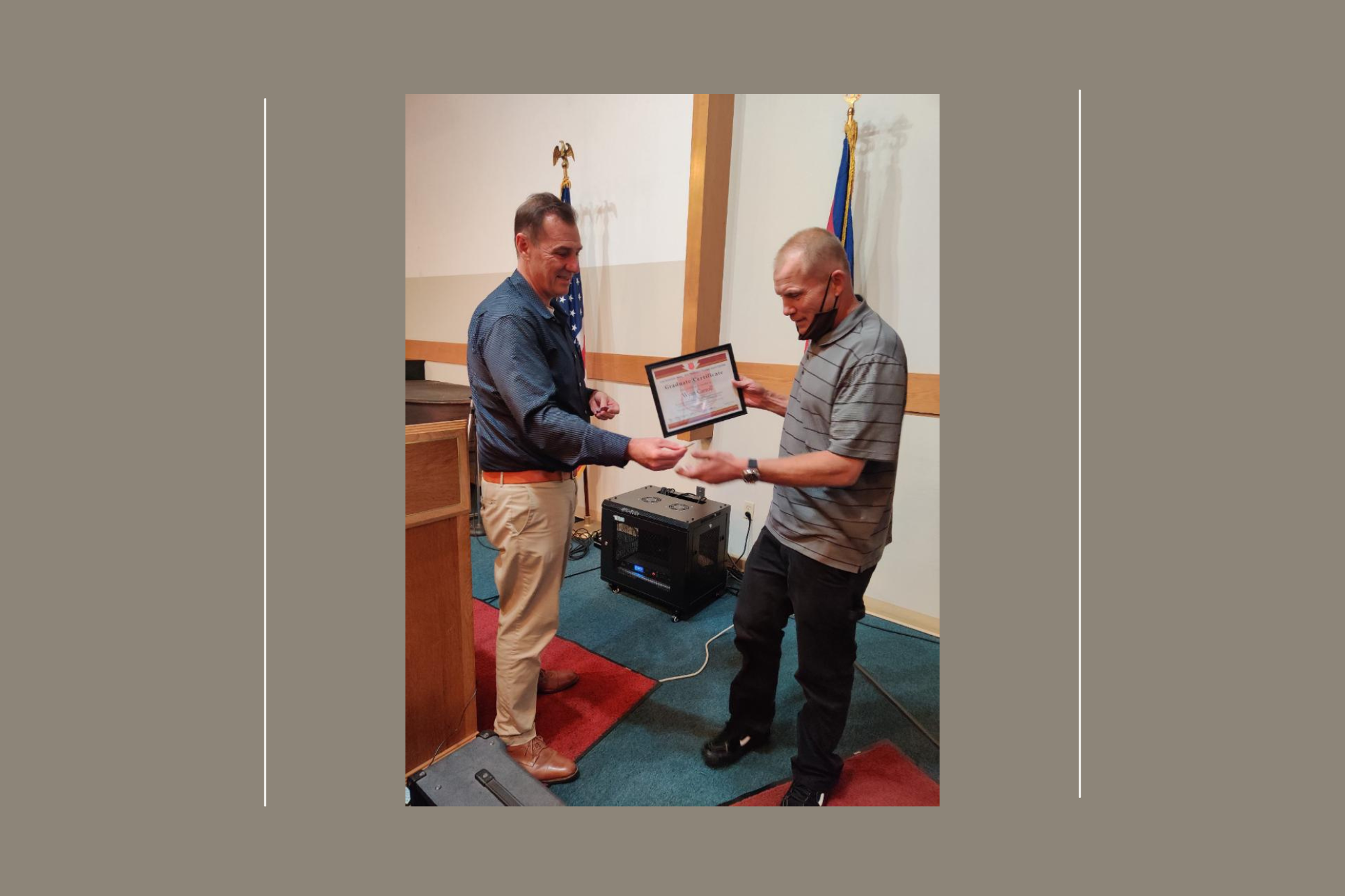 23 years in prison gave one man the perfect platform for positive change
Once incarcerated, Aaron Lowers is now director of The Way Out for The Salvation Army in San Francisco.
Aaron Lowers might seem an unlikely candidate to lead The Way Out, The Salvation Army's initiative to relieve San Francisco's homelessness crisis. But his story, including his criminal background, helps him serve people experiencing homelessness even though he technically hasn't experienced it himself.
"I should have," he said. "That's where I was heading. I chose to commit crimes to support my [substance abuse] habit rather than go there…Today, it feels like that was another person."
By his early 20s, Lowers' addiction to drugs and alcohol had taken its toll, and he was facing financial disaster. "I was losing my home to foreclosure," he said. "My relationships were in shambles and in my drug-addled mind, the solution was I needed to commit armed robberies. So I began committing a series of robberies in Los Angeles."
Life in prison in California
In Jan. 1995, after attempting to commandeer a bus heading from LA to Las Vegas, he sais he was arrested and sentenced to life in prison. At 23 years old, his life course seemed set. In prison, he said he continued to find ways to get high. Then, in 2005, his father died.
Lowers said his parents divorced when he was young, and he initially lived with his mother in Santa Rosa, California. When he was 10, she sent him to live with his father in LA. Lowers said he quickly discovered his father was an alcoholic, and his own substance abuse problems began not many years later.
When his father died, Lowers had an epiphany.
"He never got into recovery," Lowers said. "He just died the abusive alcoholic that he was when I was a young man. And it triggered something in my mind. I remember thinking: My story is going to end probably much the same way unless I do something different. So, I determined to do just that. And I started going to AA meetings."
His progress through the AA steps was slow since it was all through correspondence. Lowers said he realized—now that he wasn't focused on getting high—just how much time he had on his hands. He began taking college correspondence courses. From 2007 to 2016, he earned three associate's degrees, an undergraduate degree in English and a graduate degree in humanities.
"That process really changed my mindset," Lowers said. "I was able to develop a relationship with God and through that spiritual sense grew this desire to be of service. I realized prison was just a location, that there were still plenty of human beings there who were in need of help. And I was in need of being of service. So I started sponsoring other people."
After earning a counseling certification, Lowers became the addiction counselor in the facility treatment program for his peers. He also mentored at-risk youth who visited the prison.
"In essence, the last 10 years I was incarcerated I was free," he said. "God lifted the obsession to drink…When the parole board granted my petition for release, there was apprehension because I had built a life filled with purpose and meaning. I didn't know what to expect out there."
San Francisco and The Salvation Army's The Way Out
Lowers settled in San Francisco, thinking it might be a city where people received a second chance. It was 2018, and he was 47 years old.
"Education was incredibly transformative for me. It was a huge part of my journey," Lowers said. "I wanted to give that back."
He quickly found work as a counselor in a residential treatment program. Then, less than three months after being paroled, he began substitute teaching at Five Keys Charter School—a school that began in San Francisco county jails to serve incarcerated individuals. Soon, the school offered him a full-time position.
Two of his students introduced Lowers to The Salvation Army. The men lived at The Salvation Army Harbor Light, a residential program for people struggling with substance abuse.
"Those two gentlemen helped me appreciate that education was just one small piece of the puzzle," Lowers said. "They had gaps in their education, but they also had many other needs. And those needs were being met by The Salvation Army. They needed housing support, they needed social support, they needed connection and health services, and workforce development and job opportunities."
The two men inspired Lowers to do more good. When he saw a job posting for Harbor Light director, he applied, even though he knew he wasn't qualified. He did, however, have a solid understanding of how addiction is one of the drivers of homelessness.
He spoke with Divisional Secretary for San Francisco and Golden State Divisional Men's Ministries Coordinator Major Matthew Madsen and Golden State General Secretary Major Mark Nelson about the position. Although they told him he wasn't right for the Harbor Light position, they let him know about The Way Out initiative, and they began meeting to discuss it.
"In order for The Way Out initiative to succeed, we knew we would need someone who understood the challenges of those we serve—someone who has walked in their shoes and faced so many challenges head on," said Madsen, who oversees The Way Out.
Lowers said the conversations were ongoing for five or six months. "Eventually, they developed this position and made me an offer," he said. Making the decision to leave Five Keys, where he had received support and encouragement, was a difficult one, but he said he wanted to be a part of what The Salvation Army was doing in San Francisco.
Madsen said Lowers' story is a testament to God's grace. "When Aaron interviewed for The Way Out program director position, we knew that he 'got it' and would do a great job in helping others on their path to recovery and the realization of their full, God-given potential. His story is truly inspiring."
Currently, as The Way Out Director, Lowers is helping define the program and its relationship with Harbor Light, among other objectives, like documenting program elements, creating intake procedures and developing partnerships. He said The Way Out picks up where Harbor Light leaves off, once clients complete that initial treatment.
"Harbor Light is a six-month program, and it's not really set up for what you might call aftercare," he said. "That's what The Way Out is doing—it's providing aftercare, intensive case management. We develop a relationship with every individual. We do a needs assessment and then connect individuals with the resources they need. Some need to finish their education while others need workforce development."
Lowers said he's observing a growing sense of structure and accountability among The Way Out participants, who are responsible for attending regular meetings, caring for the facility, and keeping up with their medical and educational needs. "We've developed a strong recovery community and it's like a family," he said. "This strong bond among participants empowers them to hold one another accountable."
Recently, Lowers reached out to the San Francisco Giants organization, which provided 20 ballgame tickets to The Way Out.
"It's not all work," he said. "Living a healthy, sober life of service is very rewarding. It may be hard work, but it can be fun at times—like a ball game."
---
Do Good:
Did you know The Salvation Army served 31 million Americans last year fighting hunger, homelessness, substance abuse and more—all in a Fight for Good? Where can you help? Take our quiz to find your cause and learn how you can join in today.
Read about The Salvation Army's commitment to end homelessness from the Army's National Commander.