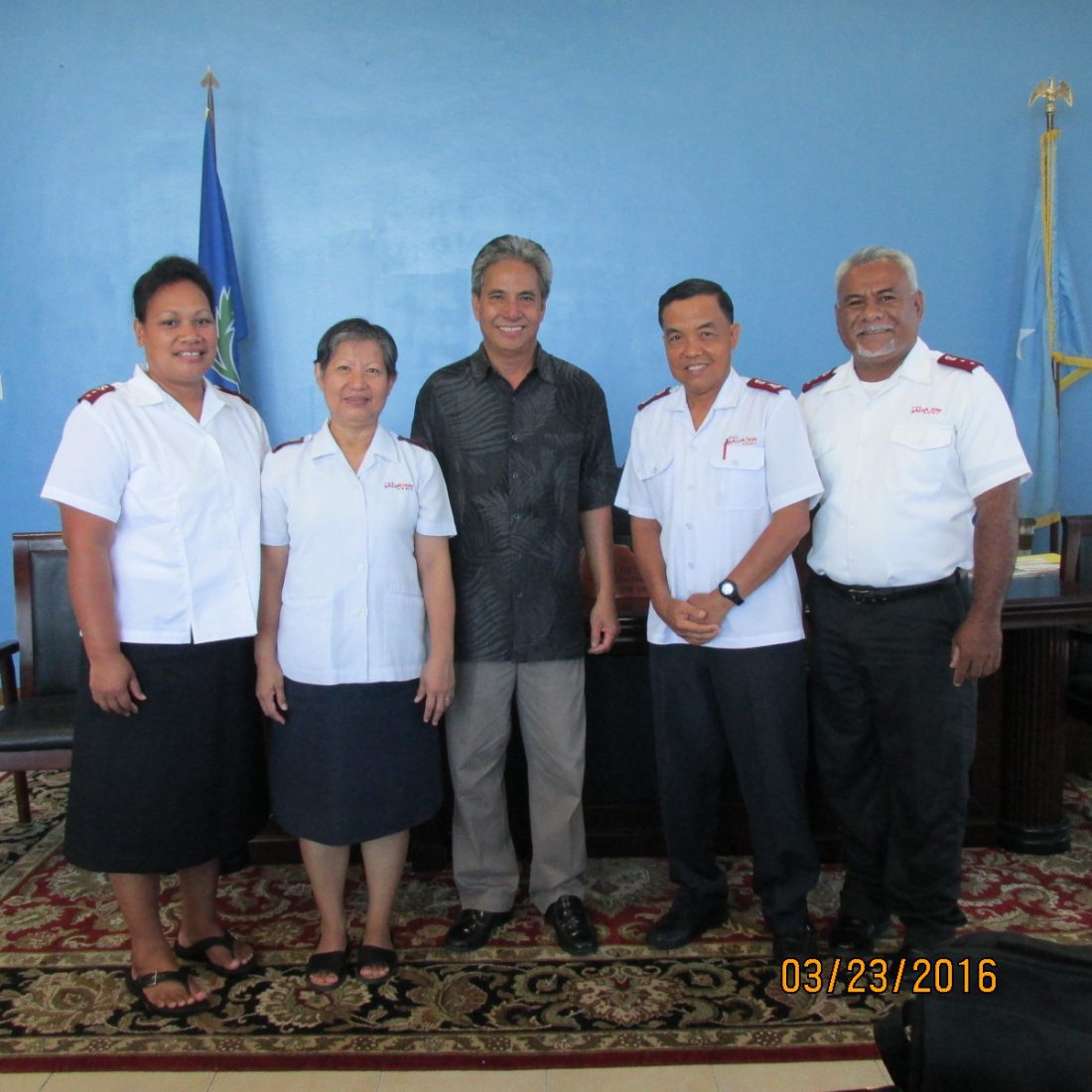 Officers in Micronesia foster government relationships
Army officials say Governor Marcelo Peterson vows to extend his full support to The Salvation Army.
Salvation Army officers from Pohnpei and Chuuk, two regions located in the Federated States of Micronesia (FSM), recently met with Pohnpei Governor Marcelo Peterson to discuss strengthening government partnerships in order to better serve local residents.
"For about 23 years now, our church and community center has faithfully served to meet the needs of the community without discrimination," said Captain Taylor Santos, officer-in-charge of the Pohnpei Salvation Army, in a letter presented to Gov. Peterson. "Throughout the year, the corps shares the love of Jesus Christ by providing human care and life-sustaining programs and services to the people of Pohnpei."
Army officials said that Gov. Peterson has vowed to extend his full support to the Army and its work. In particular, the Army sought permission for use of a government lot on which to locate a multipurpose facility for their various community and social programs. At their meeting, Gov. Peterson advised officers to prepare and submit a letter of intention outlining their proposed program, which he would in turn endorse and send to the legislative body for approval.
Since 1993 The Salvation Army has been actively engaged in the business of helping and transforming human lives, families and communities in the Federated States of Micronesia. Its church and community centers are centrally located in Kolonia and Madolenihmw, two areas particularly hard hit by poverty and related hardships.  
In order to meet this need, the Army has developed local programs including community outreach through home visits and crisis counseling; spiritual and character development; relief and emergency services for urgent needs; Christmas events and gift-giving to children, hospital patients, prison inmates and shut-ins; affordable, basic needs support through charity sales and thrift shops, in coordination with the Guam and Hawaii office; accommodation and other practical support to external migrants; and networking with other nongovernmental organizations and governmental entities in serving the underprivileged and marginalized.
The Army's visit coincided with a two-week visit to Pohnpei by Majors Jaime and Lilia Macayana, FSM coordinators for resource development, during which they conducted local officer training, corps reviews and Lent and weekend church services.