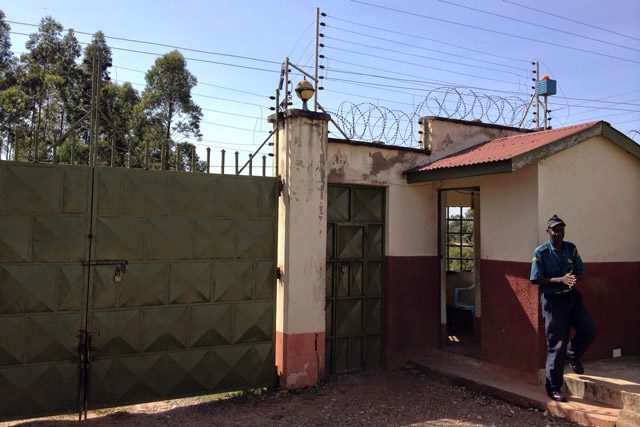 Off road adventure
"Dear brothers, is your life full of difficulties and temptations? Then be happy,  for when the way is is rough, your patience has a chance to grow. So let it grow, and don't try to squirm out of your problems. For when your patience is finally in full bloom, then you will be ready for anything, strong in character, full and complete."
(James 1:2-4 TLB)
Our recent staff conference was a big success, but I confess that I was looking forward to getting home to Kakamega. I missed my own bed, and was craving an American-style tuna fish sandwich.
We arrived at the compound gate, were saluted by the security guard, and drove in. When we reached our quarters, we climbed out of the mud-covered vehicle and fiddled with the key ring to find the correct skeleton key to open the steel gate. Then Ken searched his keys once again to find the right key to open the front door. As I waited, I thought about the recent discussion our staff has been having about beefing up security in light of terrorist threats. "Great," I thought. "Then it will take forever to get in the house."
As we entered, I did my usual loud tap dance so as to scare away unsuspecting critters. Then I reached over to turn on the light. No power. Ken put down the suitcases and went back out, only to learn that our area had been without power for several days and that the generator had run out of fuel. So he sat down to call the property secretary while I said a little prayer. Please, Lord, don't let me lose everything in my freezer.
My next job was to check the house for any floods that may have occurred during our absence. Fortunately, there were none, but for some strange reason, the hallway floor was covered in termite wings. I went into the washroom, and as I turned, a large spider descended from the ceiling right in front of my face. "Really?" I whined. In the past, that alone would have sent me yelling for Ken to "do something." But since a deadly black mamba was found in our back garden recently, spiders just don't get the same reaction from me that they used to. Of course, it doesn't help that, while cleaning Ken's study last week, I found a snake skin.
Yes, life here is just one little adventure after another.
Our family has been in Kenya for more than five-and-a-half years now, and this place has become home in many ways. The cows, pigs and occasional baboons blocking the road just make me giggle. I've learned to let my body flop around inside our vehicle to avoid another whiplash on the rough roads. Police officers with AK-47s don't even get a rise out of me. I've made good friends with the guards who search me whenever I enter the market, and I've even learned to stand on my toes when planting a tree so as to prevent my heels from sinking into the mud. Try doing that while hundreds of people are watching.
But once in a while, as you would anywhere, I hit a rough patch. That's when I have to remind myself of what van Gogh said, "Normality is a paved road. It's comfortable to walk on, but no flowers grow on it."
God puts us in uncomfortable situations now and then to stretch us and force us to exercise our faith. He does that because he loves us too much to leave us where we are.
So while I'm never sure where he is taking me, I choose to be patient as the Lord guides me over the rough terrain. With his help, I'll continue to grow into a woman strong in character, full and complete. Bring on the adventure.