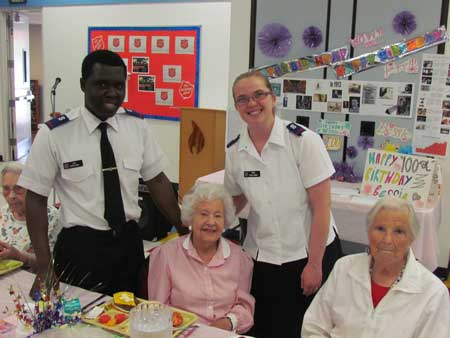 Oceanside Corps celebrates its centenarian volunteer
Long-time Salvation Army volunteer Bessie Harwick celebrated her 100th birthday with the Oceanside (Calif.) Corps and its new Club 60, a senior lunch program.
"This was spectacular. I can't thank you enough. My day was full of joy and happiness," said Harwick, who has volunteered since the corps began. Over 60 people celebrated with her, including Annebell Espinosa, Club 60 manager; Cadets Edward and Stella Oware, and Corps Officers J. and Ashley Koebel.
L-r: Cadet Edward Oware, Bessie Harwick, Cadet Stella Oware, Ethel Pennington