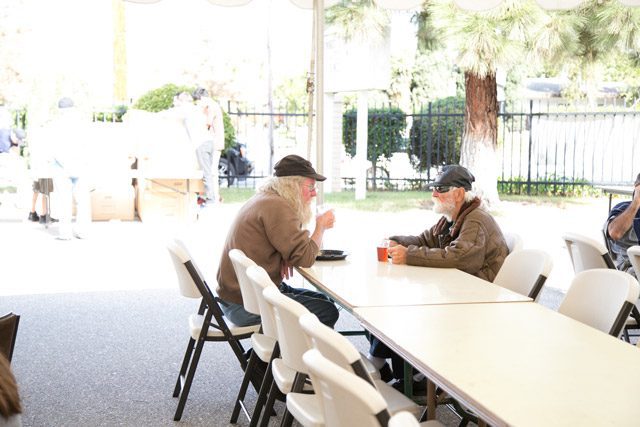 'Homeless gatherings' serve Orange County
OC614 adopts a relational approach to reach the homeless community.
By Julie Chung –
Orange County, Calif., carries an affluent reputation, but it comes at a cost—literally.
A general cost of living that is 63 percent above the national average makes Orange County one of the country's least affordable places to live, according to the U.S. Bureau of Labor Statistics. Consequently, over 12,700 people in Orange County face homelessness over the course of a year, according to nonprofit OC Partnership.
Mickey Jordan, urban ministry director for The Salvation Army Southern California Division, insists lofty housing costs are just "the tip of the iceberg." Three years ago, he launched the homeless outreach group OC614 (based on the Bible verse Isaiah 61:4) and began to get a pulse on homelessness in the area.
"I remember I asked [a homeless man] one time, 'what do you guys need out here [in Orange County]? Do you need clothes? Do you need food?'…and he said, 'you know, we have everything. We have people dropping off sleeping bags, radios, batteries for radios…we get three meals a day,'" Jordan said. "'You know what we need? All day long people walk by and they ignore us. We need to be acknowledged. We need to be shown that we're not forgotten.'"
Jordan, who previously served in Ukraine, noted unique challenges in reaching Orange County's homeless community.
"This isn't Ukraine," Jordan said. "I worked in Ukraine where there's nothing. No social security, no money…I mean [Orange County] is a playground as far as what resources are here. I know homeless people with iPhone 6s. I know people who get $90 a week from the government for disability."
OC614 served 3,361 individuals last year, averaging 280 people per month. Eighteen people were placed in a housing or recovery program.
Three times a week the group holds "homeless gatherings"—two in Santa Ana and one in Anaheim. At each gathering, a group of 15 to 30 volunteers sit with the homeless, eat and talk. They make it a point not to serve food unless it creates an opportunity to bond with people. The volunteers are trained to actively listen, lead conversations and make people feel welcome.
Jordan encourages volunteers to become committed Christians willing to challenge and stand by individuals experiencing homelessness as they recover.
"It is humbling to see those who are in need be generous and supportive of each other," said Tyler Le, OC614 hospitality manager. "God has blessed this ministry tremendously and I believe that he continues to use the gathering as a place of comfort and teaching for the homeless."
The group partners with Charity on Wheels, Mariners Church, and the Santa Ana Corps to provide food, music and game nights for those facing homelessness.
Annie Boneta, OC614 recruitment and employment advisor, said she loves serving with OC614 because she gets to build relationships with those facing homelessness.
"We refer to them as our friends, not homeless people," she said. "And we treat them as such. We put flowers on the table, serve them. It's not just a buffet line. We serve them, we clean up after them, we refill their drinks, we hug them, and they love it."
The ministry also provides services that may not be found at other outreach programs and shelters. Past projects include: prescription eyeglasses distribution, dental work, bicycle provision and repair, and resume writing, all powered by volunteers.
Onesa Anozie, family services and case manager for the Southern California Division, said, "The reward, honestly, is just knowing that I'm of use to God, and knowing that I'm being used to help people."