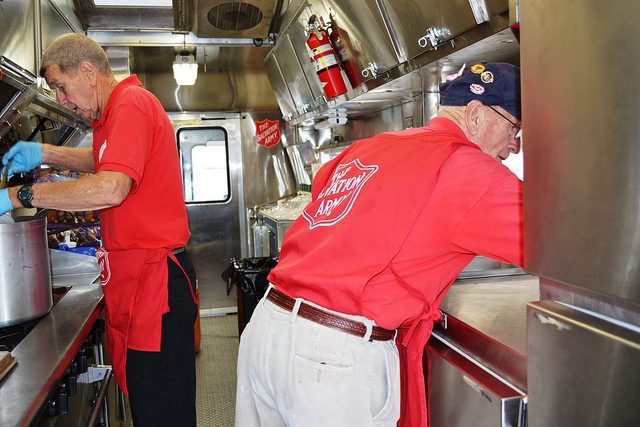 Salvation Army aids families impacted by Washington mudslide
Donations may be made via phone, online or mail.
The Salvation Army Northwest Division's emergency disaster teams responded in Washington as the search continued to find individuals missing after a massive mudslide enveloped homes in rural Snohomish County. The mudslide, which occurred March 21 in the town of Oso, left several people dead and 176 missing.
Salvation Army teams were deployed immediately to provide relief to those impacted by the disaster. The Army's mobile canteen was onsite with meals and water for the first responders. In the future, The Salvation Army will assist in the restoration efforts.
"The Salvation Army has been working in Snohomish County for more than 125 years," Northwest Divisional Commander Major Doug Tollerud said. "And we'll continue to serve this community as needed in the future—in good times and in times of disaster."
The most critical need right now is for monetary donations. There are three ways to contribute to The Salvation Army local disaster relief efforts:
1. By phone: 1-800-SAL-ARMY—designate gift for "Disaster Relief"
2. Online: Here—Designate gift for "Disaster Relief"
3. By mail: Send a check, marked "Disaster Relief" to The Salvation Army, Northwest Divisional Headquarters, 111 Queen Anne Avenue N #300, Seattle, WA, 98109
The best way to help during any disaster, large or small, is often to make a financial contribution. Cash donations allow disaster responders to immediately meet the specific needs of disaster survivors without incurring many of the costs associated with sorting, packing, transporting and distributing donated goods. Salvation Army disaster services are funded entirely by donors, and The Salvation Army uses 100 percent of all disaster donations in support of disaster relief operations.
$35 donation provides one food box, containing staple foods for a family of four, or one household cleanup kit, containing brooms, mops, buckets and other cleaning supplies.
$125 donation can serve snacks and drinks for 125 survivors and emergency staff at the scene of a disaster.
$250 donation can provide one hot meal to 100 people or keep a hydration station operational for 24 hours.
$500 donation keeps a Salvation Army canteen (mobile feeding unit) fully operational for one day.