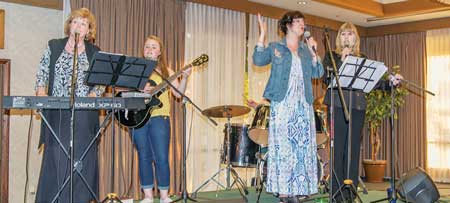 Northwest Division hosts annual women's retreat
Women experience "extravagant grace" at the event.
By Lora Marini Baker
More than 300 women from The Salvation Army's Northwest Division congregated in Pasco, Wash., in May, for the annual Women's Retreat, led by Major Sheryl Tollerud, Northwest divisional director of women's ministries.
Themed "Extravagant Grace," the retreat was organized into four sections: Grace Remembered, Grace Restrained, Grace Reservations, and Grace Released.
Special guest Dr. Valerie Clemen spoke throughout the weekend, guiding the women on an exploration of grace in their lives. Clemen challenged participants to explore what God has planned for each of them, and to use that as empowerment to move forward as grace-filled women.
Delegates could experience "Stations of Grace" within two large meeting rooms transformed into sanctuaries for an exploration of grace. Women read Scripture, watched a slideshow, wrote inspirational thoughts and prayed.
Interactive workshops led by corps officers covered a variety of topics, all aimed at "Growing in Grace."
During the weekend, women could bid on gift baskets, each created by a corps or women's ministry group. Money raised this way helped fund the divisional project that provided a scholarship for women from the Seattle Adult Rehabilitation Center to attend the retreat.
The Spokane Women's Worship Band, led by Major Lisa Brodin Smith, played throughout the weekend, and soldiers from Seattle Temple Corps performed skits about forgiveness.
On Sunday, each woman surrendered an offering from her life and filled that void with its opposite. To symbolize their new commitment to grace, the women were encouraged to write down their transformation and place this note at the cross.
In closing, Tollerud reminded delegates "to let grace transform you, and go from this place changed."