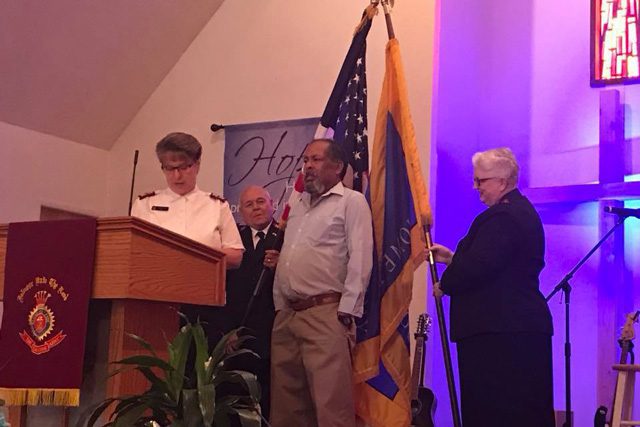 North Las Vegas Corps enrolls first male Home League member
Carlton Ashe has participated in his corps' Home League activities for a year.
By Vivian Lopez –
After attending Home League meetings consistently for about a year, Carlton Ashe officially became the group's first male member at The Salvation Army North Las Vegas Corps.
Major Beth Paugh, North Las Vegas Corps Officer, surprised Ashe with his enrollment, presenting him with candy bars—in lieu of the traditional flowers — during a recent ceremony at the corps.
"He was so touched…that [when he was] standing there during his enrollment, he actually started crying because he was just so taken by the whole thing," Paugh said.
The enrollment ceremony was an emotional experience for Ashe, who also attends the corps' Sunday worship.
"I was overwhelmed, grateful and moved to tears," Ashe said.
His enrollment was something new for the corps, and unique within The Salvation Army, as Home League members are typically female.
"In fact, I contacted our Southwest Divisional Headquarters to ask if it was something we could do," Paugh said. "They contacted Territorial Headquarters to see if it was acceptable. THQ said, 'Absolutely!' This is a different way to branch out and reach people."
Ashe lives in the North Las Vegas Silvercrest behind the corps, and the North Las Vegas Home League meets in the Silvercrest Day Room, which sparked his interest in participating as it was convenient for him to attend the meetings.
"I had nothing else to do, so I thought I would give it a try," Ashe said.
Since then, Paugh said Ashe has demonstrated a great dedication to the group, as he attends every week, pays his dues, and participates in Home League craft projects and outings.
"He's probably one of our most faithful Home League members," Paugh said. "If we're doing a project of some kind, he's really quick to jump in and do it."
She recalled a story she spoke about during Ashe's enrollment.
"We joked with him at his enrollment. The week before…we had decorated mason jars and then put all different kinds of Scripture verses in the mason jars, and we told him that his jar looked better than the rest of ours," Paugh said. "You could just see his face light up at even the thought of that."
Paugh said the Home League women are glad that Ashe is in the group.
"They enjoy the fact that he's there, and can see the joy on his face," Paugh said. "The few times that he hasn't been there, the ladies have been concerned and want to make sure that he's OK."
As for Ashe, he said he is happy to be part of his corps' Home League.
"I really enjoy the friendships, fellowship and great conversations," Ashe said. "It makes me feel very good to be a part of this group."
At the quarterly planning meeting shortly after becoming an official member, Ashe volunteered to lead one of the Home League's programs.
"My hope for the future is to continue to see growth in our membership and attendance," Ashe said.
Paugh hopes that by being part of Home League, Ashe feels a sense of belonging.
"I want him just to see that we value him as an individual, as part of our corps, and as part of our Home League," Paugh said. "He matters to us, but more importantly, he matters to the kingdom."