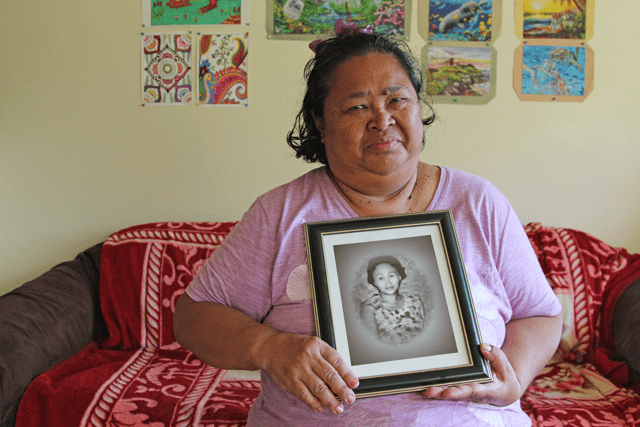 Norma's rock: The Salvation Army Lihue Corps
By Brandi Salas –
Lihue, Hawaii, resident, 65-year-old Norma Cortez, lives comfortably in her own apartment, a humble abode adorned with drawings, vibrant artwork, and photos of her mother and siblings.
"I'm a simple person," she said. "I used to care for my mother, Teadora, full-time before she passed this last March. Now that I live alone, I spend most of my time at The Salvation Army Lihue Corps."
For Norma, The Salvation Army has been her rock during the hardest times, so she spends her time giving back to the organization through volunteering.
"I don't know where I would be if it wasn't for The Salvation Army," she said. "It is my ohana and I try to give back to it as much as I am able."
The island of Kauai has a history of violent natural disasters. Norma recalled the first, Hurricane Iwa, which tore through the island in 1982.
"Hurricane Iwa was the first scary disaster that my family experienced. It was a strong storm that destroyed the home my mother and I lived in. We lived in the valley and we lost everything; our entire home and its contents were damaged," she said.
Norma and her mother sought help at The Salvation Army, where they received clothes, basic items, and a place to sleep while the damage to their home was assessed.
After they recovered from Hurricane Iwa, Teadora started to attend worship service at The Salvation Army and invited Norma.
"I instantly saw the aloha spirit at the Lihue Corps. They're so accepting and treated us like ohana," she said.
The two started to get more involved with Home League, a Salvation Army women's group, and assisted in fundraising for the organization's social service programs.
In 1992, another devastating natural disaster impacted Kauai. Hurricane Iniki completely destroyed Norma and Teadora's home.
"When Iniki hit, my mother and I knew where to seek help," Norma said. "The Salvation Army again opened their doors and let us sleep there for a week. This is the second time our home was destroyed. My mother and I gave back through volunteering during the recovery period. We cooked and served meals to survivors of Iniki and helped to mobilize other volunteers within our community."
Norma recalled her mother's dedicated service.
"My mother was passionate about food," Norma said. "She planned all the meals for survivors at that time. We asked our Home League members to help cut vegetables, prepare the meals, and deliver them to residents in remote areas."
In a true community, members are there for each other when it matters most.
"The Salvation Army is my rock," Norma said. "After my mother passed, I found comfort in the friendships I've made at the Lihue Corps, the activities we do each week, and serving other families in need in our community. The Salvation Army has been there for me throughout every disaster of my life."