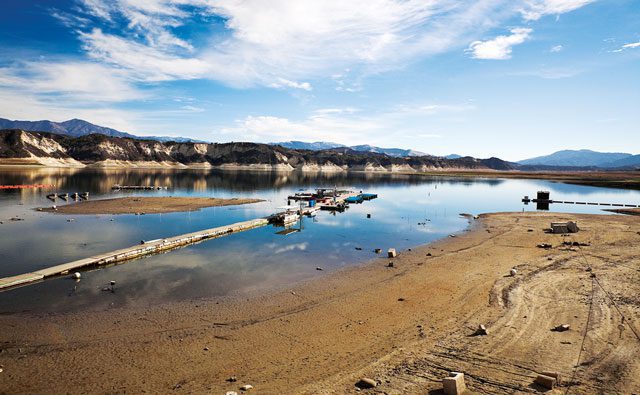 The need for water
California drought affects millions
By Laine Hendricks –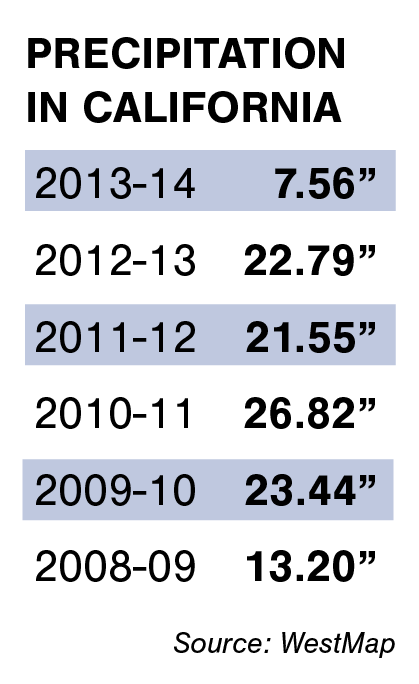 Three consecutive dry years of minimal rain and snowfall resulted this year in the most severe drought in California's recorded history. Approximately 38 million residents depend on an intricate system of aqueducts, reservoirs, rivers and groundwater, and all are reliant on both rain and runoff from snowpack that collects in the Sierra Nevada Mountains.
In the past two months, California Gov. Jerry Brown declared the drought a statewide emergency, and federal officials pledged $170 million to support the initial effects of the dry spell.
When California experienced its last drought in 2009, officials cut back water allocations to farmers and other industries. With just 25 percent (and in some areas, less) of the normal water allocation, some farmers in the San Joaquin Valley—the primary agricultural hub for California—abandoned their crops and unemployment rates soared as high as 36 percent.
Today, the effects of minimal rain and the subsequent news of no state and federal water allocations have set many farming communities in a tailspin. Crops are going unplanted and livestock is being sold as farmers who cannot irrigate crops or water livestock are forced to downsize operations. Those who support agricultural operations—farm workers, produce packers and transporters—will be rendered jobless and displaced by impacted economies.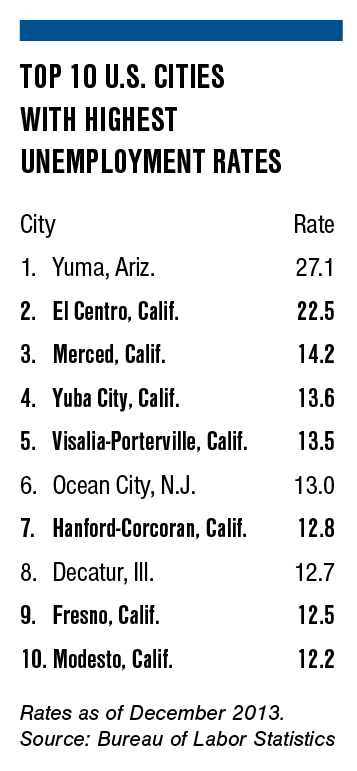 In Bakersfield, Corps Officers Majors Daniel and Carole Abella are already seeing the effects of the drought.
"There has been and will continue to be a loss of jobs, a loss of income for businesses within the community, and higher prices on food and services," Carole Abella said. "Because of the lack of work, we've witnessed families move-in with other families, or move a further distance away from the corps, so it makes it difficult for them to attend our programs. In one case, a family moved out of state to live with relatives due to unemployment and rising costs here."
The forecast for continued job loss comes on the heels of a recent Bureau of Labor Statistics report, ranking seven California cities among the top 10 for unemployment in the U.S. All seven are key agricultural areas of the state, with jobless rates of 11-15 percent.
The report, which reviews areas with a population of 25,000 or more, does not address the challenges faced by smaller communities. Rural agricultural towns such as Hollister, Los Banos or Arvin are coping with 40-60 percent unemployment rates, with 50-80 percent of each town's population living in poverty.
While the agricultural industry and large farming areas have been the focus of recent national media attention, smaller communities elsewhere in California are already feeling the pinch. The water table that feeds wells and homes in Bishop, located just east of the Sierra Nevada Mountains, is unusually low as a result of minimal snow levels and water runoff from the Sierras over the past two years.
Residents with shallow wells are faced with a difficult financial decision of either drilling a deeper well at a cost of up to $25,000 or leaving their homes. City governments in some Northern California communities predicted their respective resources will run dry in three months, and are enforcing mandatory conservation practices to preserve what they can.
"Think like this is a hurricane. We will have large communities that will be displaced by the economics of large scale business loss," said John A. McKnight, director of emergency and disaster services for The Salvation Army Golden State Division. "Whole areas—even entire counties—will need help and we will need resources to be brought here to keep the people in these communities healthy."
The Golden State Division, which includes about a third of California and the top five agricultural-producing counties in the state, its treating California's drought as a long-term natural disaster. McKnight, local corps officers and other Salvation Army representatives are meeting with local agencies, non-profits, and non-government organizations to identify what needs can be met to help reduce the burden of the unemployment that will result from the looming water shortages.
"We anticipate a huge migration from rural communities to more urban areas," said Captain Dwaine Breazeale of the Fresno Citadel Corps. "There will be an increased need for emergency food, food pantry programs, water, utility assistance, eviction prevention, and even shelter management. Plus, other needs will arise as the secondary effect of the drought begins to hit those local economies that depend on local dollars invested there. If no one can afford to shop for food, buy gas or pay their mortgage, those businesses may have to shut down as well, causing additional unemployment."

Corps and social services opportunities include education on budgeting and feeding a family on a reduced income, water saving tips and even a referral guide to other agencies in the event that Salvation Army resources should run low.
Personnel are beginning to stockpile non-perishable food items and bottled water to not only respond to requests for emergency food, but to be able to continue to provide food and water to the children in Salvation Army programs, should statewide water rationing become a reality.
In Fresno, plans are underway to host a city-wide food drive to help kick-start the stockpiling process.
"We anticipate needing at least two truckloads of bottled water alone," Breazeale said. "We would like to see if there are donations available before having to purchase the items ourselves."
The Salvation Army is calling upon communities to consider monetary, non-perishable food or bottled water donations to help prepare for this inevitable hardship that has no clear end date. In addition, individuals are encouraged to practice water conservation measures in their homes and offices.
"Throughout this drought, Salvation Army officers, employees and volunteers will work creatively and compassionately to bring relief to people in this important life-giving region of California," said Major Rob Birks, Golden State divisional general secretary. "Pray for rain."
____________________________________
Five tips for water conservation
1. Turn off the water while you brush your teeth and save up to 4 gallons a minute.
2. Run your washer and dishwasher only when they are full. You can save up to 1,000 gallons a month.
3. Wash your pets outdoors, in an area of your lawn that needs water.
4. Shorten your shower by a minute or two and you'll save up to 150 gallons per month
5. Learn how to use your water meter to check for leaks.
For more tips visit wateruseitwisely.com