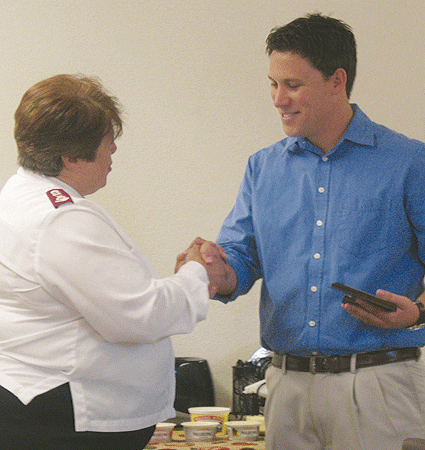 No age requirement for advisory board leadership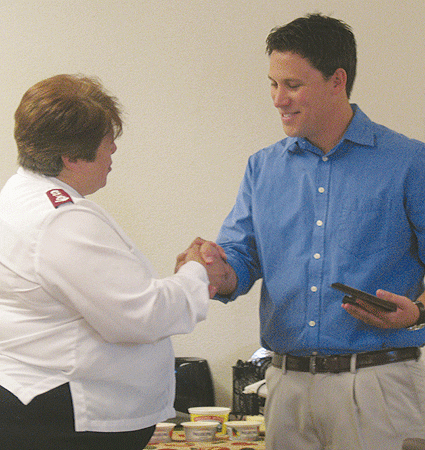 The Apache Junction Corps' advisory board is headed by its newest and youngest member.
By Buffy Lincoln
Following its reopening in 2011, Apache Junction Corps Officers Majors Rafael and Raewyn Aspeitia went about building a vital ministry in the community by first establishing a strong, competent advisory board.
They succeeded with board member Korey Stewart.
Not only was Stewart the newest member of the advisory board, but at age 28 he was the youngest. His age did not matter, though, when other members realized his experience and expertise in business matters. In October, he was installed as board chairperson by Corps Officer Major Angie Medina, who replaced the Aspeitias in June.
"Korey brings a young and exciting perspective to our board and I'm so excited to have him as part of our team," Medina said. "His Christian commitment to The Salvation Army is a perfect fit."
Stewart has over eight years of experience in real estate and investing. He runs a successful real estate company in Queen Creek, Ariz., and manages numerous properties and his own private investments. He ranks in the top 4 percent of realtors in Arizona.
"My love of the Lord has given me my commitment and vision needed to serve The Salvation Army in Apache Junction and I know we will see exciting things happen for the kingdom," Stewart said. "Major Medina is a great example of God-given trust and good works needed to see the corps succeed."