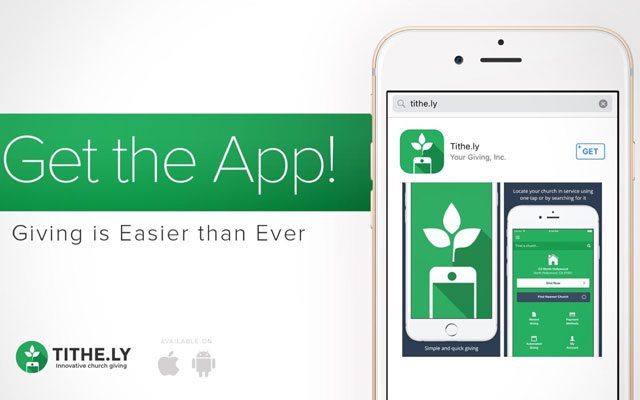 Tithe.ly app grows as giving option
App-based tithe-giving up by a third from last year
By Hillary Jackson –
Whether it's to pay for a coffee or to reimburse a friend for your share of an experience, if you're like a growing number of Americans, you probably do it through mobile apps.
Last year, the Western Territory rolled out Tithe.ly, a smartphone app to make giving easier in the digital age. Following its April 2018 launch, the app accounted for $157,000 of the territory's tithe-related giving in 2018. Now, just over a year later, Tithe.ly is growing in popularity as an easily downloadable, user-friendly giving resource in the Western Territory.
The West's adoption of the app is in line with national financial statistics. A Federal Reserve report shows individuals wrote 50 percent fewer checks from 2000 to 2012, and research from Capital One says 25 percent of Americans rarely carry cash—with millennials driving the trend at a higher rate. These two methods of payment are historically popular ways people choose to tithe to their local corps.
"Tithe.ly makes it easier for people," said Piers Fairclough, Territorial Director of Strategic Initiatives. "It's cashless. It's checkless. It's convenient. People are used to paying electronically now…it's just another channel for them to give."
Fairclough originally found the app in Businessweek and set it up to try on his phone. Last year, the territory adopted it as a tithing method, and IT made it possible for givers to tithe at any of the West's corps using the app.
The app's interface grants givers flexible control of turning their gifts off and on as they wish, and it costs the same as an automatic withdrawal from the bank. If users decide to use a debit or credit card, there is a small processing fee they can pay or have deducted from their gift.
During its inaugural year, Tithe.ly brought in about $13,000 a month across the Western Territory. Currently, the app averages $17,400 a month.
"I think more and more we are moving to a cashless society and people don't carry around as much cash anymore. Some people are totally cashless and don't even use checks," said Tustin Ranch Corps Officer and Orange County Coordinator Captain Cheryl Kistan. "The app allows people to give regularly and manage their finances electronically. They get a receipt electronically, so this is also helpful to them."
During the first week of April, the Tustin Ranch Corps accounted for nearly one third of the territory's Tithe.ly givings. Kistan said they announced the app to the corps' congregation during the service, and also sent out information via their newsletter and a specific email with regard to the app.
"The feedback I have received is that the app is simple to use, and allows people to contribute without the need for envelopes, cash or checks. Everyone has been positive about it," she said. "Electronic giving is the future."
In addition to giving via the Tithe.ly mobile app, the Tustin Ranch Corps also has opportunities to give electronically through iPads at its welcome desk. Through these devices, people can also register for camps and other functions.
While Tithe.ly contributions currently account for just 2 percent of the total tithe-related giving in the territory, leaders anticipate growth.
"In every area we're moving toward a more cashless society," Fairclough said. "With the Tithe.ly app, people can do that now in the corps."
Give via the Tithe.ly app today at go.usawest.org/Tithely.