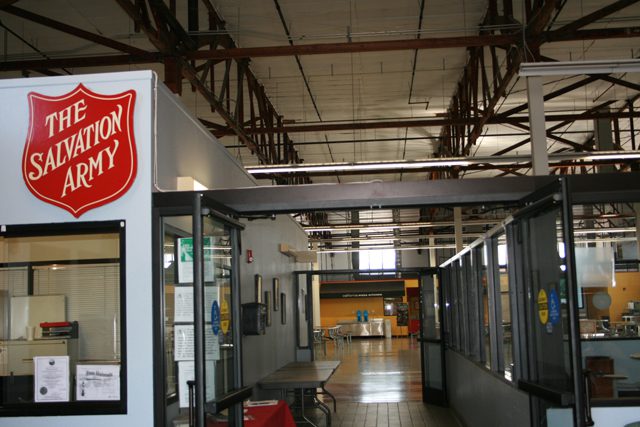 New Medi-Cal program benefits Bell Shelter
Instead of getting short-term outpatient care, clients will now receive ongoing treatment, tailored to their specific needs.
By Kristin Marguerite Doidge –
The Salvation Army Bell Shelter—one of the largest homeless shelters in the Western U.S.—will soon be able to expand its services to reach more people in need, thanks to a new pilot program offered through Medi-Cal.  
Medi-Cal, which is California's Medicaid program, has launched a Drug Medi-Cal (DMC) program to test a new paradigm for the organized delivery of health care services for Medicaid eligible individuals with a Substance Use Disorder (SUD). At Bell Shelter, which currently offers transitional care for up to 350 homeless men and women, the new program could be life-changing by helping more people improve their chances of long-term recovery.  
"This will dramatically change our numbers," said Steve Lytle, Director at Bell Shelter. "We're anticipating a total for 40 new beds just for substance use clients under DMC. We're seeing this through the lens of homelessness, but it has the potential to dramatically shift drug and alcohol treatment in L.A. County."  
That number could more than double in the next six months once the program is up and running. After a two-year application and compliance procedure, Bell Shelter has received its approval from the county of Los Angeles, and expects to be able to take DMC clients in under the new program before the end of the year.  
The greatest benefit will be in allowing the shelter's staff of case managers and clinicians to provide more robust programming to better meet clinical goals, Lytle said. Through holistic work-therapy, group and individual counseling sessions, comprehensive case management, spiritual direction, and life skills development, residents learn to abandon substance reliance at Bell Shelter's licensed drug and alcohol program.
It also means more staff will be added, helping to potentially lessen the caseload of each case manager or counselor, thanks to the additional funding from DMC for each client the shelter will be serving. All substance use clients will be able to continue to take advantage of unique offerings, such as neurofeedback therapy, which has been shown to lower relapse rates over 50 percent in the course of a year versus just standard recovery.
Health officials say that with DMC, service providers will be able to address addiction as a chronic disease that acknowledges the underlying causes or related issues, such as mental illness. Instead of simply getting short-term outpatient care, Medi-Cal beneficiaries will now be able to receive ongoing treatment, tailored to their specific needs.
It is estimated that more than 50 percent of men and women living on the streets suffer from mental illnesses. For many, their condition is compounded by substance use disorder, creating a vicious cycle.  
But the leadership at Bell Shelter is hopeful that more people facing these chronic, overlapping conditions will now have more opportunities for recovery, thanks to DMC. 
Treatment starts with a computerized ASAM assessment taken by a licensed counselor or social worker. The in-depth questionnaire looks at the client's life situation, support system, mental health, and substance use, along with a physical examination, before assigning a level of care. Individuals must be qualified financially for DMC to receive treatment.  
Lytle said the shelter currently serves more men than women, ages 18–80, with severe substance use issues, and anticipates the new DMC program will likely continue to meet the needs of the same population, but on a larger scale. Bell Shelter also provides services for veterans with one of the largest concentrations of veteran beds in the county. This year, it will nearly double its capacity from 250 to 480 in total.  
Mental health providers, jails, and other social service agencies will refer potential new DMC clients to the shelter, but the shelter will also be be doing outreach in the community. Some clients currently undergoing treatment will be switched over to the new program when it officially launches.  
The biggest change will be in how long clients can stay. DMC allows for 30 days before a reassessment, with an option to extend up to 90 days.  
"Historically, we've allowed people to stay up to two years," Lytle said. "Sometimes that works really well, and they stabilize. Veterans will still be able to do that. But my observation is that a year or two is sometimes too much. People are ready to go out and live life again."
Bell Shelter is one of 30 service providers participating in the new DMC program in Los Angeles County. The Army's Hope Harbor Shelter in Lodi has also been approved to participate.   
For Paul Wager, the shelter's Clinical Director, he's most looking forward to seeing the change the program could make in the lives of many who perhaps weren't yet being served.
"The big thing is it's going to allow literally thousands throughout Southern California to access treatment," he said. "We'll be able to serve more people, and help them build a recovery foundation so they can go back to what they enjoy doing, be productive members of society, and have a good life."