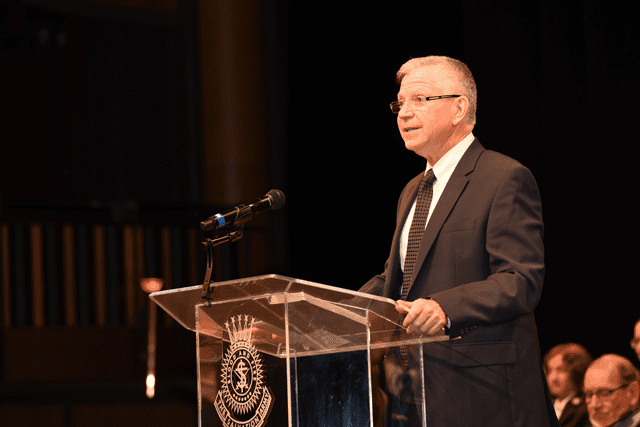 New leader for Crestmont Council
Dr. Steven Gray becomes council chair as William Flinn retires.
By Karen Gleason –
Dr. Steven Gray assumes chairmanship of the Crestmont Council June 10 as William Flinn, O.F., retires from the position after eight years. Comprised of more than 20 representative professionals, the council is the educational authority for The Salvation Army Western Territory College for Officer Training (CFOT).
Gray joined the Crestmont Council in 2012 and for the last three years has served on its Executive Committee as secretary. With a doctorate degree in education, he has served as Superintendent of Pasadena Christian School in Pasadena, California, for 26 years.
"We are thrilled that Dr. Gray will be stepping into the role of Chair of Crestmont Council," said CFOT Principal Major Brian Saunders. "His long experience and knowledge of Christian education and his commitment to The Salvation Army will be of great benefit to the council and the Army. The council plays an integral role in the life of the College for Officer Training, and we look forward to Dr. Gray's leadership in the years ahead."
It was Flinn who first introduced Gray to The Salvation Army. Impressed by the work of the Army, Gray said he was "moved to help advance its great mission and ministry." Working with CFOT seemed like a natural fit.
"I am extremely humbled to follow in the footsteps of Mr. Flinn," Gray said. "He has served as an outstanding role model of Christian character and servant leadership. Along with the exceptional administration and staff of the college and tremendous support of Territorial Headquarters [THQ], I feel confident in the direction and future of the college."
Flinn brought to Crestmont Council a wealth of nonprofit leadership experience from his work with the Pasadena Tournament of Roses Association and passion as a lifelong Salvation Army soldier and Bandmaster at the Pasadena Tabernacle Corps.
"His vision and council have been integral in guiding the College for Officer Training through accreditation and in meeting the high educational standards expected of an accredited college," Saunders said. "We are grateful for his wisdom, advocacy and encouragement."
Gray hopes to build on Flinn's legacy, including strengthening council committee memberships and member diversity. The council focuses on the skills needed by officers and the means by which CFOT is committed to providing that training; it participates in the command review of CFOT and observes THQ's process for screening and admitting candidates; and it serves as a leader and voice for CFOT in dealing with strategic planning, finance, accreditation and more.
Flinn will remain on the council after his retirement as chair.
"It has been an honor and privilege to work closely with the members of the Crestmont Council, CFOT staff and cadets over the years," Flinn said. "I am grateful for the Lord's continued blessings on our Army and for the opportunity to be of service."