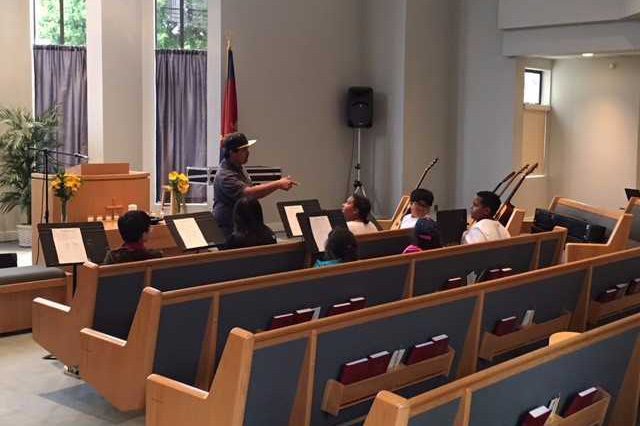 New guitar program strikes chord in South San Francisco
Salvation Army launches music program to fill a gap in the community
By Vivian Lopez –
When Corps Officer Lt. Antonio Romero asked the kids and teens at the South San Francisco Citadel Corps what they wanted more of on youth nights, the feedback was nearly unanimous: music.
While the corps is in close proximity to many other agencies and nonprofits, few of them, if any, offered music programs. So, Romero approached John Opina, Golden State Divisional Music and Worship Arts Director, who agreed to teach the kids guitar, starting in September.
"I thoroughly understand the influential power music can have in a child's life," Opina said. "Having a [music program] available could be the safest option some of these kids have, or the only learning environment where they can be free to express themselves and not be afraid of failure or of being judged…I feel every church should have music available to kids."
So far, 10 kids—ranging from ages 8–16—have joined the program, but Romero said more are beginning to show interest. And thanks to donations from both the Mission and Ridgecrest Corps, they now have 12 acoustic guitars to work with.
Although the guitar can be one of the more challenging instruments to learn due to the complex hand mechanics and dexterity required, Opina said the response from the kids has been encouraging.
"I operate with the ideal that no kids get left behind, so for the kids who are learning or achieving at a quicker rate, I use them to teach and help the other kids who are learning a little more slowly," he said. "As a teacher it is a great feeling to know students are learning what you are teaching them. For them to then take those learned skills and teach their peers, that is an entirely different level of gratification."
Nicole Liu, 16, who's been involved with the corps for about eight years, said she was "really excited" when she first heard about the program.
"By learning the guitar, I thought it would be a good tool for me to use in the future in order to lead other people in worship," she said.
Xavier Patton, 10, said he's loving the program so much he brought a friend along.
"I told my friend, 'Hey, they're doing guitar. It's going to be cool,'" he said. "When we went there, he had so much fun."
Moving forward, Romero said they are looking for an instructor to start piano lessons at the corps as well. He said he eventually wants to have youth music lessons in brass instruments, drums and other percussions instruments at the corps.
"It would be awesome if kids could leave this program knowing two to three different instruments," he said. "I hope as we firm the foundation in their faith in Christ that they go on and be a blessing to others."
For Opina, he hopes to cultivate a sense of lifelong learning with these students—whether or not that's with the guitar.
"If we can begin changing neighborhoods one child, or person, at a time through music, we can then be agents of positive change in communities, cities and states and across the globe," Opina said. "Wouldn't it be nice if that change happened right here in South San Francisco?"