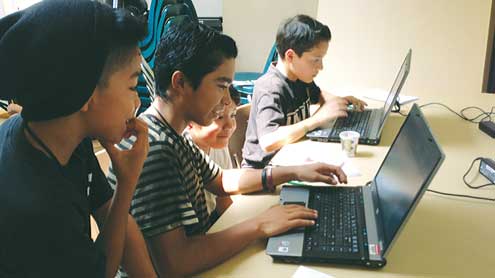 New Frontier Publications goes to camp
18 young journalists put together a newspaper. 
 The 2013 Musical Theater Camp at Camp Mt. Crags in Calabasas, Calif., encouraged creativity in 145 campers ages 8 to 14.
It was the first camp of the 2013 summer; in 2012, 2,365 kids attended camp in Southern California.
In four days of sessions, campers learned performance and behind-the-scenes material leading to a final presentation of the musical, "Follow U," before over 250 family and friends.
"The division used to run a creative arts camp where the kids would learn different performance oriented classes and we thought it would be fun to change this into a musical theater camp where the whole camp would come together and perform a musical at the end," said Jacqui Larsson, divisional creative arts director. "We also thought it would be good for the kids to see and understand the behind-the-scenes elements involved in a production like this and felt that the kids would be able to go back to their corps and share these newfound talents."
Classes ranged from choir, hip-hop, ribbons, stomp, acting, video production with SAVN.tv (Salvation Army Vision Network), sound and lights, set design, art, hair and make-up, and journalism with members of the New Frontier Publications editorial team.
Larsson said they included journalism to give the creative kids who don't necessarily enjoy the spotlight on stage the chance to express themselves in a different way.
"It was so fun to watch these 18 cup reporters strategize their stories, question interviewees and put together an article to be proud of," said Christin Davis, New Frontier Publications managing editor. "They were thrilled when they saw their names on a printed publication."
The journalism session put together the first-ever 8-page issue of The Crags Caller. It included articles on putting together the musical, the campfire construction, and profiles of counselors and the camp lifeguards.
"Many of these kids had great instincts and the determination to get all the information they needed," Davis said.
Beyond instruction, the camp aimed to impact lives.
"These campers came from different areas of L.A. and different situations," Larsson said. "To see the Lord work in their lives and soften their hearts in such a short time at camp was amazing."
See more photos from camp at https://bit.ly/170kYks and watch the SAVN.tv behind-the-scenes video production class documentary at savn.tv/musicaltheatercamp2013.