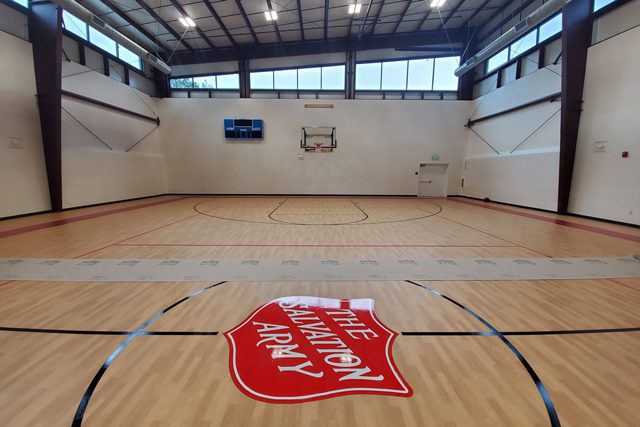 New building brings new focus, opportunities for Chico Corps
Chico Corps officers detail plans for new facility
By Vivian Lopez –
A year after breaking ground on the construction of the new building, The Salvation Army Chico (California) Corps is beginning to transition services over to the new facility ahead of its opening weekend June 28-30. And with the new building, comes a new programming emphasis for the corps—education.
"We think education is the silver bullet against poverty, [along with] Jesus," said Corps Officer Lt. Arwyn Rodriguera. "The more you have access [to it], the more resources you have."
The new building has been five years in the making, including its initial approval, capital campaign, planning process and construction. It's the culmination of a dream built on two questions the Rodrigueras had when they arrived in Chico for their first appointment as Salvation Army corps officers.
"When we first came to Chico, some of the most important questions we had asked ourselves as newly commissioned officers was, 'What was the overall vision for Chico? And what were some of the goals that the Advisory Board and our local church members had?'" Craig Rodriguera said.
They were fascinated by the Chico community and how other agencies and churches were providing similar social services and programs as The Salvation Army. So, they decided a new corps community center building would allow them to offer services that were not currently offered by others in the city—primarily, education opportunities for low-income families and seniors, as well as comprehensive Emergency Disaster Services.
"A lot of people, especially now after Camp Fire, they're looking for us now more than ever to help fill some of these gaps," Craig Rodriguera said. "That's sort of been our strength in the city right now."
Kickstarting the new educational opportunities at the corps is the Raising Highly Capable Kids parenting education class, which is held Mondays and Wednesdays through the end of July in conjunction with the corps' Youth Summer Day Camp. The course encompasses parenting amid trauma. And much of the population now living in Chico are Camp Fire survivors from Paradise.
"Parents are going to be able to come in and be educated on their personal trauma and how that's impacting their parenting style which is very important, especially in the aftermath of the Camp Fire," Arwyn Rodriguera said.
And while parents participate in this course, their children ages 6-12 will be learning. The Chico Corps has partnered with local agency Reading Pals, which focuses on getting kids caught up in their reading levels in schools. Together, they will work to prevent summer gap learning during the day camp by having an adult read with participants to keep them reading at their grade level during summer break. Childcare is also available for younger children.
Older adults, which account for a large portion of the city's population, will also have access to educational opportunities. The Morning Owl program will engage them in physical education as well as topics ranging from health insurance and fasting, to Chico's snow goose season.
"When you're dealing with an aging population, you want to engage their intellect as much as possible because studies have shown the more you're engaged socially, physically and mentally, it staves off things like dementia and Alzheimer's," Arwyn Rodriguera said.
As more community partners get involved, the Rodrigueras want to introduce adult education courses as well in a variety of topics, such as citizenship, English as a Second Language and General Educational Development, by late 2019 and 2020. And in two years, they would like to launch a culinary workforce development program, as the new facility has a kitchen designed to accommodate it.
Arwyn Rodriguera is also happy that the new building is designed to meet many different needs, including disaster relief—especially when serving an area affected by frequent fires.
"It has definitely changed the climate and the urgency of what the Army can provide. We are very happy that we really focused on a multi-use facility that can change in a heartbeat to meet needs," Arwyn Rodriguera said. "EDS is very much…in our DNA. This new facility really allows [us] to house volunteers, pump out meals, and be a [center] for Salvation Army operations in the event of another disaster."
Ultimately, the Rodrigueras want the new corps building to be a safe place for transformation.
"We have our Adult Rehabilitation Program, which is intervention. We have our Family Services Office, which is [also] intervention. But what about prevention and sustainable recovery? How do we meet you where you're at before we need to have intervention?" Arwyn Rodriguera said. "Our heart and prayer and vision is always for transformation."