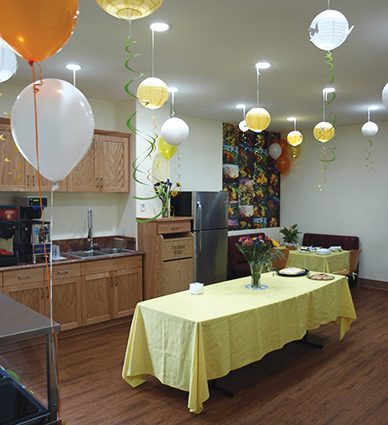 Naomi House inaugurates kitchen
Metabolic Studio provides the grant to fund the project.
 By  Susan Renfro
Residents and staff at The Salvation Army's Naomi House in Los Angeles recently cut the ribbon to inaugurate the facility's new kitchen. A $43,300 grant from Metabolic Studio funded the project.
Naomi House residents now have a space to cook their own meals, as well as an eating area to establish community life at the facility.
"One of my favorite parts of the house is the kitchen because I love to cook and I love to bake," said Jennifer, a resident. "It's great! I'm just so excited; we are going to put it to good use."
Naomi House is part of The Haven program, which offers services to veterans in need. Naomi House specifically caters to female veterans, offering a 15-bed emergency housing facility with supportive services and work development programs.
"It's quite a journey because first of all we are women, and then we are veterans. We wear so many different hats, have so many different experiences, and come from all walks of life," Jennifer said.
"Being here has saved my life, and I am in a better place."
Within the last nine months, seven Naomi House residents graduated and secured housing and steady sources of income; 17 veterans began vocational training or returned to school. On average, women complete the residential treatment program in about a year before returning to productive independent living in the community.
To help Naomi House residents, donors may contribute items from their wishlist: twin size bed linens, bed pads/egg crate foams, bath and face towels, laundry baskets, toiletries, shower shoes/flip flops, bath robes, side table/bed lamps, plastic food containers with lids, coffee mugs with lids, dish rags, USB thumb drives, combination locks and grocery store gift cards.