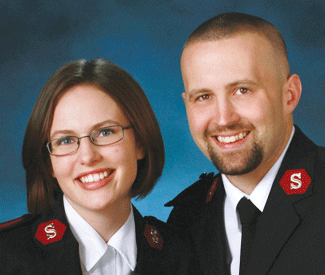 My first year as an officer "One year down, 38 more to go"
By Matthew and Vanessa
Jensen, Lts.
Lts. Matt and Vanessa Jensen are corps officers in Ventura, Calif. Their first assignment was in Santa Maria, Calif., as assistant corps officers.
Matt: They want us to write about our first year as an officer. Man, what a ride!
Vanessa: Where do we even begin? We could start with the vacation Bible school (VBS) story or that gang leader of yours.
Matt: VBS story? Do you mean the fact that 30 kids gave their lives to Christ that day?
Vanessa: Well, yeah, there's that, but I mean when that homeless man came in with a huge gash in his leg while we were decorating. We stopped everything to search for our first aid kit. I remember kneeling on the floor, wiping away massive amounts of blood, all while hugely pregnant and highly nauseated!
Matt: That pretty much sums up officersOctoberhip doesn't it? One of the biggest ways I saw God move in my first year was when I made friends with a local gang leader. After talking with him throughout the course of a few months, he decided to leave the life and get right with Christ, eventually becoming a godly father to his kids. It's so awesome the Lord allowed me to be a part of that.
Vanessa: God really let us be a part of a lot of things, though personally I don't think I was prepared for most of them. Like Praise Team, for example. I had never led praise and worship and yet when the team leader went off to college, there I was! I was scared out of my mind because I'm not a musical person, but it was so fulfilling to help mold the group and then train a leader after me. I really miss that now.
Matt: You had me at "prepared." Being prepared for officership is like being prepared to wrestle a hungry lion while wearing a steak suit! I must have missed the Crestmont class "How to talk someone out of suicide," and yet one month in and there I am doing exactly that.
Then because the Holy Spirit likes to show off, I ended up leading that wonderful man to Christ an hour later. Can we really be prepared for stuff like that, which seems to happen over and over again? Definitely not. But it's an awesome ride that continues to humble me like nobody's business.
Vanessa: I have so many more memories, it's hard to pick my favorite. I loved working with the youth and the Home League. I loved communicating with those deaf ladies too.
Matt: Oh yeah! The ones that came through the lunch line every day at the corps.
Vanessa: I always wondered what God was going to do with my one sign language class that I took in college ages ago. And BAM. God says "I can use all skills for my glory." I looked really ridiculous trying to communicate in my broken sign.
Matt: You were rockin' it for the Lord and I was quietly hoping my gang leader friend wouldn't think you were throwing up gang signs!
But overall, one year has passed and we've experienced a lot. I imagine we'll be able to write books to fill an entire library by the time we retire.
Vanessa: When do we retire again?
Matt: Thirty-eight more years, my friend. Thirty-eight more years.
Vanessa: Awesome!