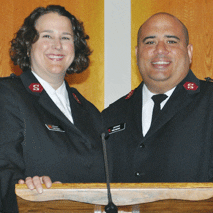 My first year as an officer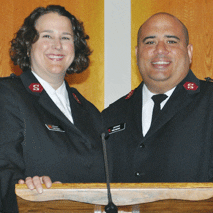 By Shawn McDaniel, Lt.
As we walked across the stage to receive our appointment, my husband, Lt. David McDaniel, and I prayed for ministry opportunity in the Adult Rehabilitation Centers (ARC). When Commissioner Knaggs joked that we were staying close to home, our minds started racing. Finally, he announced our appointment as trainees at the Anaheim (Calif.) ARC and a wave of excitement and joy washed over us.
Our first month at the ARC, we lived on site. This made for a great commute, but the 5:30 a.m. wake-up call over the loudspeaker startled us each morning. Each night, we could see the fireworks from Disneyland, a vacationer's paradise. Our appointment over the coming months would feel more like paradise, yet not much like a vacation. When we arrived that first Monday morning to receive our training calendars, we realized that we were scheduled to do something every day for the next year.
The schedule did seem overwhelming at first, but it grew on us and was nowhere as painful as we initially thought. It was great working at different stations in the warehouse and at the family stores. We observed classes and group sessions, and participated in case conference—a weekly staff meeting to discuss each beneficiary. David began spending more time with administration, while I began filling the chaplain role and participating in many director of special services duties during the holiday season.
We encountered challenges. Training school equipped us to hit the ground running, but as trainees our role was simply to "observe and report." David struggled with balancing his role as both leader and trainee, and I struggled with balancing ministry and home life. Being asked to put any previous experience on hold and learn a new system for doing things felt more like brakes hitting the road than us hitting the ground running.
Yet, seeing people accept Jesus, lives transformed by the power of the Holy Spirit, and people gaining knowledge of God's love and purpose in their lives is the best part of what we experience every day. Through this process of slowing down, David feels he has become a better listener and team player. I have gained a better understanding of ARC ministry as a whole, and I love working with the women and bringing a "home-like" feel to the program through my duties. David finds chapel services the highlight of his ministry; leading people into worship and a personal relationship with Jesus is what it is all about. I gain a great sense of purpose and satisfaction from meeting one-on-one with people and spiritual counseling.
Neither of us can imagine being anywhere else!
Our training officer's Scripture for ministry success comes from Matthew 6:33: Seek first his kingdom and his righteousness, and all these things will be given to you as well (NIV). In the fast-paced ministry of the ARC—overseeing hundreds of employees, beneficiaries and volunteers, directly influencing people's lives in health and healing (physically, mentally, and spiritually), and handling large budgets and warehouse operations—this Scripture holds true and has been tried and proven to us over and over this past year. We continually seek God's will for what happens, not only in our ministry, but in our personal lives as well. We rejoice and give thanks to God in and for all things.
We cannot wait to see what God does in our lives this next year.