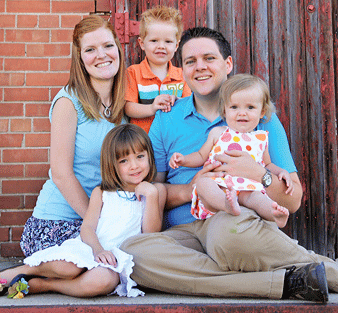 MY FIRST YEAR AS AN OFFICER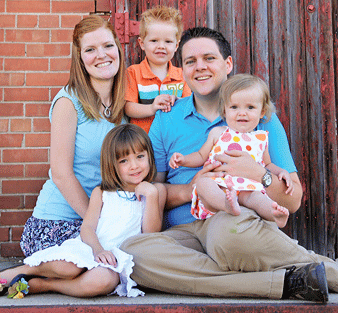 Learning to (actually) trust God in all things
 By Joel and Kim Boyd, Lts.
We've spent over a year now as corps officers in Greeley, Colo., with our three children, Hannah, 4, James, 3, and Audrey, 1. We have already been through and done so much, grown and learned so much, that when we look back we find ourselves saying "Really? It's only been one year?"
Through it all, God has taught us one central lesson that will be a cornerstone of our officership. It can be summed up in a verse, Proverbs 3:5-6: Trust in the Lord with all your heart, and do not lean on your own understanding. In all your ways acknowledge him, and he will make your paths straight (ESV). It's one of those "Yeah, uh-huh, got it" kind of memory verses that many Christians have known their whole lives, but learning to actually live it has been a challenging journey.
The biggest challenge came during our first Christmas. A United Way representative approached us in October 2011 about the need for an overflow shelter. Colorado winters are harsh, and all the local shelters had been maxed out. We had the space for a shelter, but no money, people or time. All the same, when we prayed for guidance, we felt God's response was clear: "Do it!"
Working with local agencies and under the direction of our headquarters, we were able to open up the winter shelter. We provided over 600 nights of shelter for area men, with funding and resources coming from different regional agencies. It was a great collaborative effort, but at the same time our kettles did poorly because we were not able to give our fundraiser the full effort it needed. We were worried about how we were going to make it through the year, but God kept encouraging us to trust in him (and lean not on our own understanding).
Throughout the next few months, despite the many tasks that had to be done, we learned to take time every morning to give the day to God and seek his guidance. One morning, we found there just was not going to be enough money to pay all the bills. So we laid hands on them and asked for God to provide. Over the next two weeks, checks came in that we were not expecting and we made it through!
Another time, we were so stressed with work, our three toddlers, and life, that we could no longer handle our dog's insistence to use the carpet as her toilet. In desperation, we prayed that God would potty train our dog. She started "going" outside within the week. In even the mundane things, God provided.
It has been a year now, and we are
excited for the possibilities that are presenting themselves over the coming year. Our corps is no longer in debt, we have money in the budget to hire a youth pastor, and we have a strong vision—fueled by God's wisdom and compassion—that excites us.
Through this first year, God has thoroughly convinced us that there is no greater asset we have as Salvation Army officers than trust. So no matter what challenges lie before us, we are fully prepared to trust God through them. He will make our path straight!