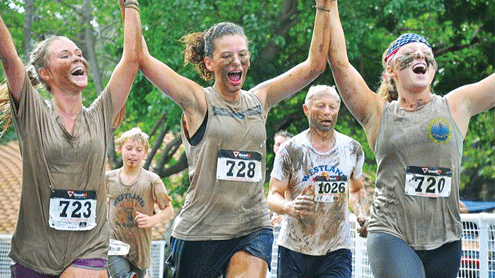 Mud Run benefits Salvation Army
7th Annual Malibu Canyon Dirt Dash raises money to send kids to camp.
For the seventh year running, The Salvation Army's Mt. Crags and Gilmore camp in Malibu Canyon, Calif., hosted racing enthusiasts Sept. 22 for the Malibu Canyon Dirt Dash.
More than 1,100 people participated in the Fitness Walk,  5K/10K Trail Run or the 5K Mud Run, with proceeds benefiting the Southern California Division summer camp program that provides a camping experience to more than 1,600 underprivileged children each year.
"I had never done a trail run, and I am training to do my first marathon, so I figured what better way to prepare than to donate to The Salvation Army and run up in the hills of Malibu," said Christina Cummings, a 10K Trail Run medalist for the women's 25-29 age category.
In addition to Cummings and the other running enthusiasts, more than 100 volunteers donated their time to help make the event a success.
Kecia Friday, a volunteer at the registration table, hails from The Salvation Army's Compton Corps, and has been volunteering at the event for four years. For Friday, giving back to camp is personal.
"I started off in the 70s as a camper myself," she said. "I know the significance and the importance of having the experience of summer camp, so this is my way of giving back."
Camp Director Mark Logan also stressed the significance of camp.
"It's a great opportunity for kids to get to realize that there's hope beyond the situations and circumstances that they find themselves in," he said.
According to Logan, the Dirt Dash does more than raise money for deserving children. It gives awareness to the camp's work and those it serves so that the community can see and be a part of it all.
"Today was a very enthusiastic, worthwhile event," Logan said. "It's not just a mud run, it's an open house, it's people coming together, it's wonderful and I'm really excited we were able to do this [and] we are going to do it again next year."
To donate to the camp's ministry,
visit  donate.salvationarmyusa.org/southerncalifornia/CampMtCragsandGilmore.