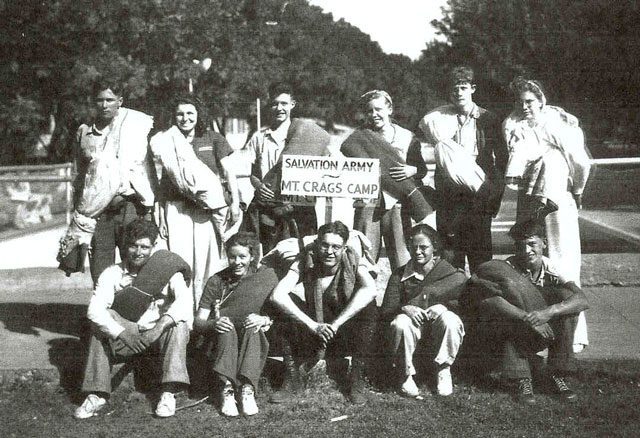 Camp Mt. Crags
75 years old and going strong
By Karen Gleason – 
Camp Mt. Crags, The Salvation Army Southern California divisional camp, celebrated 75 years of service this summer–offering young Salvationists and community children the opportunity to not only have fun and make new friends, but also to experience God through nature and through the ministry of camp counselors and staff.
The camp has persevered over the years, withstanding floods, fires, earthquakes and even vandalism to its famous "big cross."
"Camp provides memories that you never forget," said Lt. Colonel Doug Riley, Southern California divisional commander. "I call it a memory that lasts a lifetime—an opportunity to enjoy God's great outdoors, and to share Jesus, which for many, changes their lives forever."
Nestled in Malibu Canyon northwest of Los Angeles, the site once housed a resort, according to Robert Docter, New Frontier Publications editor-in-chief, who can stake a claim as Mt. Crags' first camper. The Salvation Army acquired the property through the generosity of Will Rogers, a cowboy, actor and author.
Rogers, who admired and trusted The Salvation Army, gave thousands of dollars to support its ministry, especially its work with youth. He died in a airplane crash in 1935, but money raised by the Will Rogers Memorial Sanitarium allowed the purchase of the property in 1939 for $20,000, and The Salvation Army began its camp ministry that summer. It was first called Will Rogers Memorial Camp.
The history of the land itself extends far back in time, and includes stories of Native Americans, Spanish settlers and buried treasure, and U.S. presidents. Read more about Mt. Crags' history here.
"It was nothing like now, " said Docter, who, with his twin brother, Richard, stayed at Camp Mt. Crags for that entire first season in 1939.
The 10-year-old boys —who turned 11 during their camp stay—needed a place to stay that summer while their father, an officer, served at THQ, then located in San Francisco. The boys had come to Los Angeles with their mother, who was busy caring for her ailing mother. Docter said they saw their parents about once a week.
"We had some status as full-time campers," Docter said. "We thought we owned the place."
At any given time, about 75 to 100 children were there from mid-June through mid-September. Most were children from Southern California communities; only a one-week music camp catered specifically to Salvation Army kids. They participated in traditional camp activities–hikes, swimming, crafts, campfires and skits.
"Because we were there all summer, we were almost turned loose," Docter said.
Four or five other other boys in his cabin were also there for an extended time. Their counselor was Adam Gifford, son of the Western Territory's first territorial commander, Lt. Commissioner Adam Gifford.
"We had fun—took our own hikes if we wanted to; not sure we always told our counselor," he said. "We also participated in the skits since we were there all season, and we helped lead hikes to the eventual site of the little cross."
A group of young Salvationists erected the first big cross that initial summer on Brents Mountain, 1,710 feet above sea level. After being vandalized, it was replaced in 1990 and again in 2011.
Docter's main memory is of the campfires. They weren't in a cement pit with a backstage area, surrounded by benches, like they are today. They were a pile of logs circled by rocks, and the campers sat on logs.
The buildings—cabins, dining hall and kitchen—were old. There was one flushing toilet for the whole camp; only staff members could use it. Everyone else used the latrines–"Henry" was the boys' latrine and "Sylvia" was the girls', according to Docter.
"They smelled as only holes in the ground can smell when used for that purpose," said Docter.
The office was small, maybe 8 x 15 feet. The road to camp was unpaved; to get there you drove through water, sometimes deep. Since it used to be a resort, large rooms had been converted into makeshift cabins; designed for two, they housed four or five campers. In 1946, wooden cabins went up. Today's third-generation cabins are all brick.
The original pool was old, too, and since it didn't have a filter, the staff had to completely change the water every week. The water was then so clear that the deep end would look shallow.
One day, a boy–younger than Bob–jumped into the deep end thinking he'd be able to touch the bottom. Although he didn't have lifeguard training, Docter jumped in to rescue him. He got him, but struggled as he tried to maneuver the boy to pool's edge. He made it to poolside and hoisted the boy to safety.
"That was my first life-saving adventure," Docter said.
That pool was eventually washed away in a flood. The old dining hall was razed—it also flooded out—and a new one was built. It now stands close to where the original pool once was.
Docter also recalled the development of the adjoining Camp Gilmore in the late 1940s-early 50s, established through the efforts of Docter's father who obtained sponsorship from Gilmore Oil.
When asked about the evolution of Camp Mt. Crags, Docter immediately spoke of the Rileys, Lt. Colonel Dave Riley and his son, Lt. Colonel Doug Riley, current Southern California divisional commander.
"Dave Riley did so much for the camp…and Doug continues the dedication to this program."
Doug Riley credits the camp for his own personal growth.
"My personal involvement with Mt. Crags goes back to 1974 as a maintenance worker," Riley said. "I think camp became the vehicle and the spark for my personal development as a leader. I spent 12 straight summers at camp… as it impacted those inner city children who would never have had a camp experience if it wasn't for the Army's ministry, it impacted me perhaps more."
These days, along with its now state-of-the-art campfire pit, Camp Mt. Crags boasts an assembly hall and a three-story apartment building for instructors and other guests.
"As we celebrate 75 years," Riley said,  "I rejoice knowing of all those children and adults who came to know Jesus here at the foot of Mt. Crags cross and the thousands of lives who are different today because of a camp ministry that is so important and so so impactful."
______________________________
Read Camp Director Marty Brown's reflections on camp ministry here.
[gss ids="8433,8435,8436,8432,8428,8431,8427″]