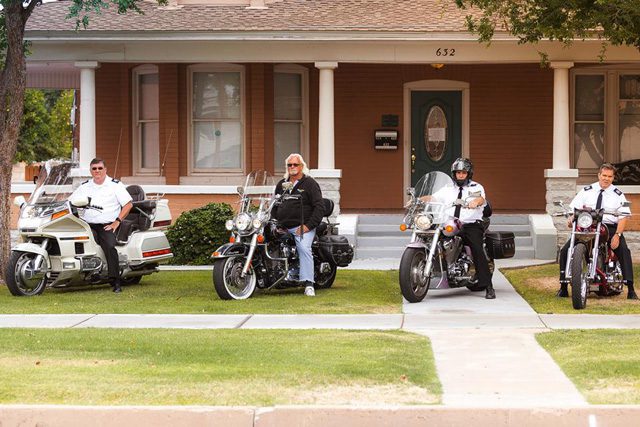 Motorcycle ministry revs up in West
The West's Motorcycle Ministry is an officially chartered outreach of Community Care Ministries.
The Community Care Ministries (CCM) Motorcycle Ministry is up and running in the Western Territory, with approximately 30 riders participating from the Northwest, Southwest, Alaska, California South, Del Oro and Intermountain divisions. Membership is open to men, women and children (with parental approval).
"This is not just a motorcycle club; instead it is a ministry of the local corps' CCM to the lost, forgotten and marginalized," said Major Kyle Trimmer, Western Territorial Men's Ministry Secretary. "Participants combine their love for Christ with a love for riding, taking to the streets to minister through CCM activities locally or regionally, or anywhere in the Western Territory.
Preliminary discussions are underway in the Western Territory for divisional or regional rides, which would include riders participating in CCM activities during their time together.
"Additionally, there is an opportunity to join with the Central Territory for street ministry at the Sturgis Motorcycle Rally in the Black Hills of South Dakota, August 2 to 11," Trimmer said.
When Territorial Commander Commissioner Kenneth G. Hodder approved the chartering of the Motorcycle Ministry in the West in June 2017, he spoke of The Salvation Army's commitment to creative outreach.
"The Army has always used every means at its disposal to proclaim Christ and meet the needs of others in his name," Hodder said. "The Motorcycle Ministry is a powerful way to do just that and anyone who rides is invited to join."
Realizing the potential of the Motorcycle Ministry, riders in the Southwest Division have participated in community events and have plans for the future.
"A few riders, soldiers from Tucson, participated in a toy run that The Salvation Army was the beneficiary of," Tucson (Arizona) Amphi Corps Officer Lt. Taurean Ortiz said. "As riders we were also able to make connections with other bikers in Tucson who are willing to help out with other events that we are doing such as our Harvest Festival, feeding of the homeless, community clean up, and other projects around the corps. I am very excited to see the fruits of this ministry starting to benefit the Tucson area physically and spiritually."
Riders from the Phoenix Citadel Corps plan to set up a water station in Mesa, where they will also offer flyers about corps programs.
Every first Friday in Mesa, the City closes Main Street down for just bikes," said Soldier Ken Mowery. "Hundreds of people and bikes—what an opportunity to share the gospel! Also, WestWorld has an annual Bike Week event…We definitely need to be at the event, doing the same type of thing."
Major Timothy Smith, Phoenix Citadel Corps Officer, said the men who signed up for the ministry "are eager to make something special out of the outreach opportunities that come with the motorcycle ministry."
He said a group of guys from the corps rode up to men's camp together, and caravanned back to Phoenix afterward. Smith was driving the bus for the other attendees on the way back.
"For a moment I looked in my sideview mirror and thought, 'Oh no. There's a bunch of bikers behind me,' before it dawned on me, 'Hey, wait, those are our guys,'" he said. "Later, we all stopped at a roadside barbecue stand where the staff included an adult rehabilitation center alumni. He hadn't had much contact with the Army in years…We had the privilege to pray with him and ask a blessing upon him before we left."
The Salvation Army Motorcycle Ministry is an international ministry That began in Norway in 2000. Its mission statement is: "Members of The Salvation Army Motorcycle Ministry promise to make it a priority of their lives and Christian witness, to engage themselves in the biker community wherever they are welcomed for the purpose of bringing salvation to the lost and to serve all who are suffering without discrimination."
For more information on the Motorcycle Ministry contact your corps officer, CCM or Men's Ministry Secretary.