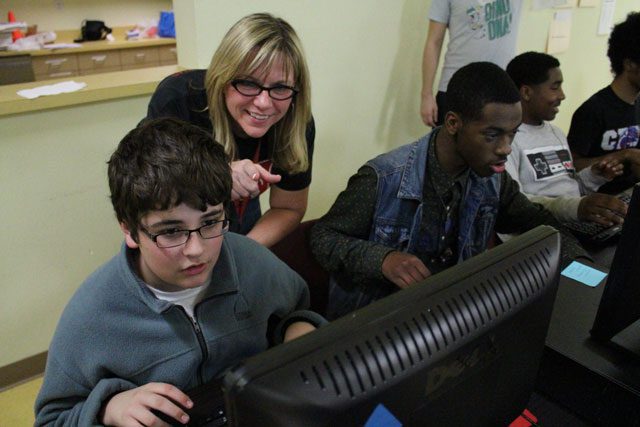 More than A-Game
Teens explore video game design at The Salvation Army.
By Sidney Fong – 
Video games are a nearly universal pastime for teenagers, which means continually added jobs in the gaming industry.
The Salvation Army of Sacramento County (Calif.) introduced Project A-Game, a new video game design club for middle school students in the Oak Park and South Sacramento area interested in careers in the gaming industry. The first Salvation Army program of its kind, Project A-Game merges science, technology, engineering arts, and math skills with teens' natural affinity for playing video games. According to a Pew Internet & American Life Project study, 97 percent of teens in the U.S. play video games.
"A significant and growing number of [teens] are interested in pursuing careers in the game industry," said Brian Alspach, executive vice president of E-Line Media, which is providing the learning software for the program. "Our hope is that Project A-Game will create an ecosystem of support for young people with an interest in making games like those that already exist for young people interested in things like music, athletics or fine arts."
A Big Fisch web development company will offer the instructors and mentors to teach programming, digital design, illustration, animation, visual storytelling, and project management three times a week for a year at The Salvation Army's Ray Robinson Oak Park Community Center. Students will even collaborate to create their own original computer and video games.
"Project A-Game allows us to reach a new group of youth…and provide them a place to belong, bring awareness of health and encourage healthy behaviors––all through game design," said Sonja Stires, director of program for the Oak Park Campus.
The pilot program will be funded for two years by California Endowment and divided into 10-week cycles. According to Stires, California Endowment is interested in replicating the program in 10 other locations throughout the state. "Our interest, of course, is to build it for replication within the Army and to use it as an opportunity for ministry and social change," Stires said. "I see it as an innovative approach to ending and addressing poverty."
Currently, there are 10 students enrolled in the course and 15 more on a waiting list for the summer session. Enrollment is limited to provide opportunity for more one-on-one instruction. As students gain experience, they will be able to serve as peer mentors for newer members of the studio.
"I want to learn how to program and design games so that one day when I'm older I can make a career out of it," said 14-year-old Kenny. "If I wasn't in Project A-Game I would probably be sitting at home playing video games by myself."