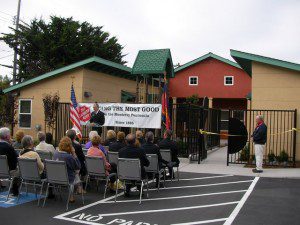 Grant helps families find shelter
The Monterey Peninsula corps receives government funding for its housing program.
By Lloyd Graff – 
After receiving a $2,121,998 grant award that was split between eight organizations by the U.S. Department of Housing and Urban Development (HUD)—The Salvation Army Monterey Peninsula Corps in Seaside, Calif., is thriving in its second year.
"We are grateful that the good Lord has provided support through HUD and other generous donors to help fulfill The Salvation Army's mission to break the cycle of homelessness in Monterey County," said Lt. Jennifer Swain, Monterey Peninsula corps officer.
In 2014—its first year with the grant—The Salvation Army Monterey Peninsula Corps' housing projects provided homes for 21 adults and 36 children at risk of homelessness. These families primarily consist of single mothers with children. The HUD grant provides funding for the corps' Casa de Las Palmas housing program, which facilitates a two-year transitional housing program established under the combined auspices of HUD and The Salvation Army.
The focus of the housing program is to offer low-cost housing with wraparound services, to provide a bridge from crisis to stability. Rent is based on 30 percent of clients' incomes, and the housing staff provides a variety of resources in order to improve the likelihood of their achieving permanent housing during their time with The Salvation Army.
Casa de Las Palmas houses nine working families who receive intensive life skills training preparing them to transition from crisis to stability within the community.